Category : WordPress
Posted on :

Oct 17, 2018

Views :

1,447

By :

Zane P.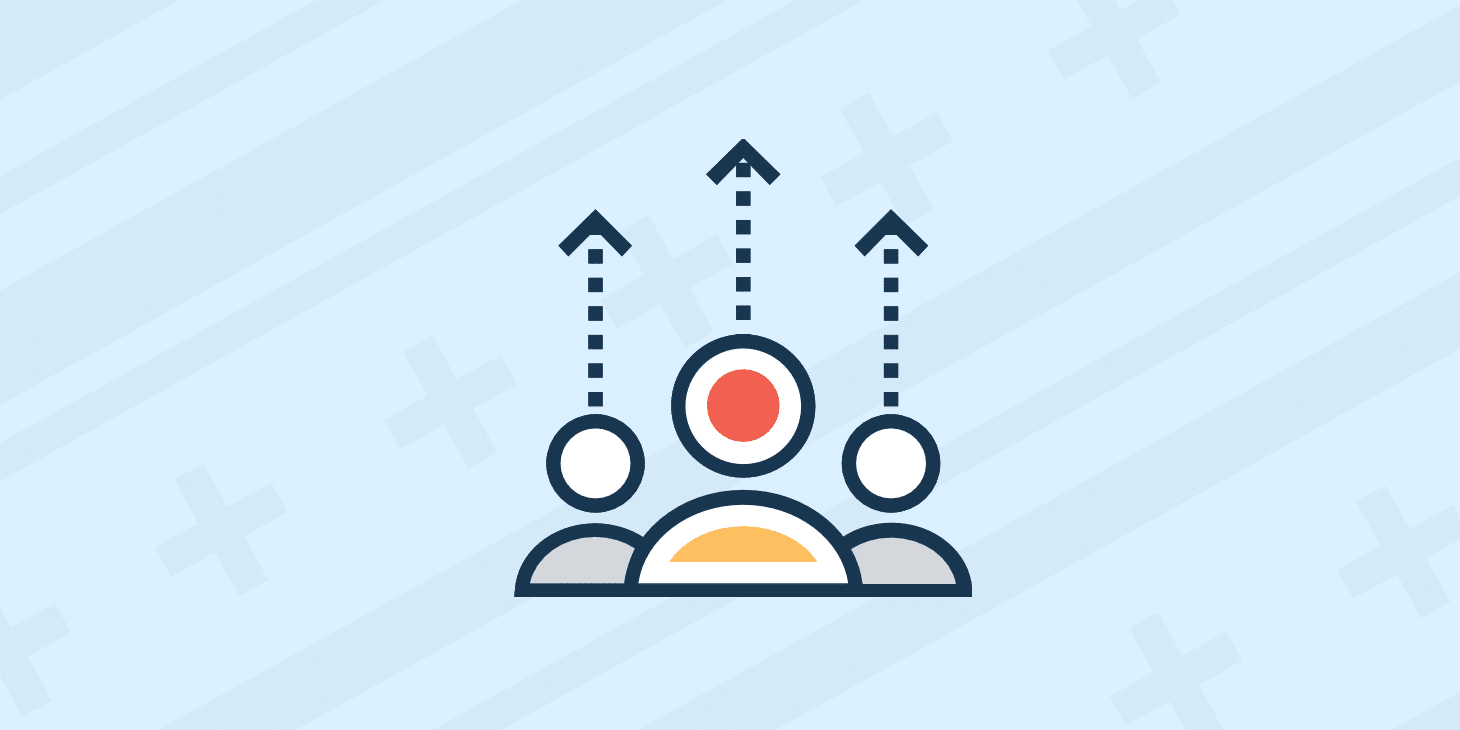 No matter what business you operate in, customers are your lifeline. Without them, you wouldn't generate any sales, get referrals, or develop new relationships. True customer relationship management helps you better understand your customers and engage with them throughout the entire customer lifecycle. By analyzing data, you can determine what they need or want, and how you can improve your business model. That is why having a CRM should be central to what you do. In this post, we'll dive into the Zero BS CRM plugin, why you should use a CRM and some of the advantages of going with a self-hosted solution.
Why You Need a CRM
A CRM Sounds Great. But Which One?
What About a WordPress Self-Hosted Solution?
Diving into Zero BS CRM
Why You Need a CRM
CRM. It's a term which you may be familiar with. It stands for customer relationship management or client relationship management. You don't need to run an e-commerce store or even sell to people to call them customers. A CRM can be used for anything that involves managing relationships. But why would you want to do so? Knowing the history of your customers lets you tailor your communications to their exact needs and give them what they want when they want it. And beyond that, it is one of the easiest ways to stay organized!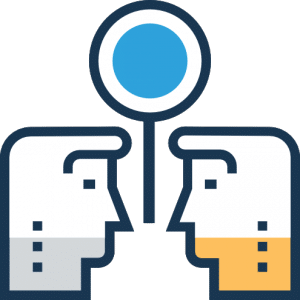 You might be wondering, surely this could be done with a mailing list? Yes, you could manage your leads via your email list and tag them if they've become a customer. You can then target your communications to them based on the tag they have. Right? Yes, you can do that, to an extent, but it's incredibly limited. There are many things you can do with a CRM that you can't do as easily with an email list, such as:
Know exactly what that person has purchased
Keep notes on that person (e.g. they tweeted you about XYZ)
Know that person's full purchase history
See exactly when they first made contact with you
Track what they purchased, when (timelines)
Send emails based on exact criteria (give a gold member VIP reward to anyone spending over $1k with you)
Dive into your churn rate by analyzing past trends
70% of respondents said engaging, qualifying and following up with leads was their biggest challenge and 61% said prioritizing and tracking activities and follow-ups for their sales team was also a problem. – Zoho Study
You can do much more with a CRM too. What about giving your customers access to their own Customer Portal where they can view the documents you have exchanged with them? Or give them a central place to view and pay for invoices. It is easy to become disorganized and waste time looking for invoices for a client. With a CRM I can just send them a link to a Client Portal and let them log in and access their information. Using a CRM really becomes central to your business when you realize you can leverage this kind of power. Even if you don't have an e-commerce or service based system you can use a CRM setup to:
Manage your address book
Add custom fields (like birthdays, notes)
Send communications based on certain events (never forget your Mom's birthday again!)
Keep track of invoices you've received from people
A CRM Sounds Great. But Which One?
There are a lot of choices out there when it comes to a CRM and we could write for days about all the different solutions. Traditionally these have been offered via a SaaS model and come with limitations (some of which may not worry you when you start out). Some popular ones you are probably familiar with include Sales Force, HubSpot, Agile CRM. But, with these types of solutions they have the potential following drawbacks:
You trust someone else with the security of your data
You trust someone else that they'll keep it backed up
It can become expensive fast once you scale
They come packed with too many features for everyday users
For example, Agile CRM is a nice solution, however, as soon as it starts asking you to modify MX records to be able to send emails to customers and contacts, this can definitely scare average business owners away. It also has a lot of options and panels, which means you might end up paying for features you don't need, like an appointment booking system. Research by Inside CRM found that 55% of users said ease of use was their most important CRM feature. So sometimes simple is better!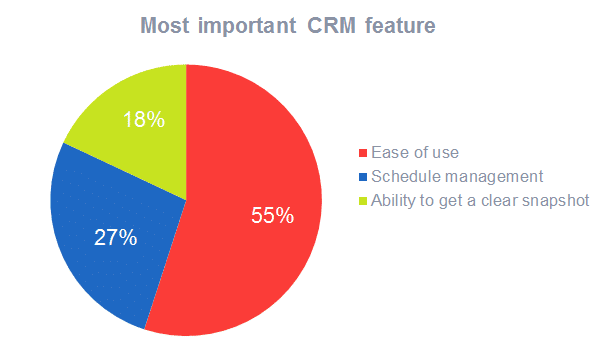 These types of solutions also get very expensive fast, as you're paying for hosting and paying for databases with more and more contacts. Some CRMs offer a per customer payment levels or email restrictions (first 10,000 free, but can only send 5000 emails, etc.).
What About a WordPress Self-Hosted Solution?
WordPress has evolved massively over the years, from a simple blogging platform to including REST API capabilities which take it towards being a strong performer and kit for building web-applications. This new functionality added to WordPress over the years has helped to make it flexible for developers to build CRMs which can run right from your WordPress website. At Host SEO, we offer high-performance WordPress hosting and going with a self-hosted CRM using WordPress as the content management system is becoming possible (and more popular). Here are a couple reasons why you might want to self-host your CRM:
You control the database of contacts (leads, customers, etc.)
You can create your own CRM team and give them access
You can control their own user levels and permission
If you decide to stop paying, you keep all the data and can keep using the CRM (for free)
Even if you have extensions, and do not renew these, they still operate after they expire
You have more control over your backups and retention policies
Utilizing a provider with secure hosting can give you peace of mind
If we take a look at the WordPress repository, there are 21 pages of results for the term "WordPress CRM." But when looking through them, only a few stand out as true, self-hosted and well-supported CRMs that actually utilize WordPress as the content management system. It's one thing to build a CRM for WordPress that sites on top of it, it's another to build a CRM for WordPress that actually integrates with it and takes advantage of the already powerful platform.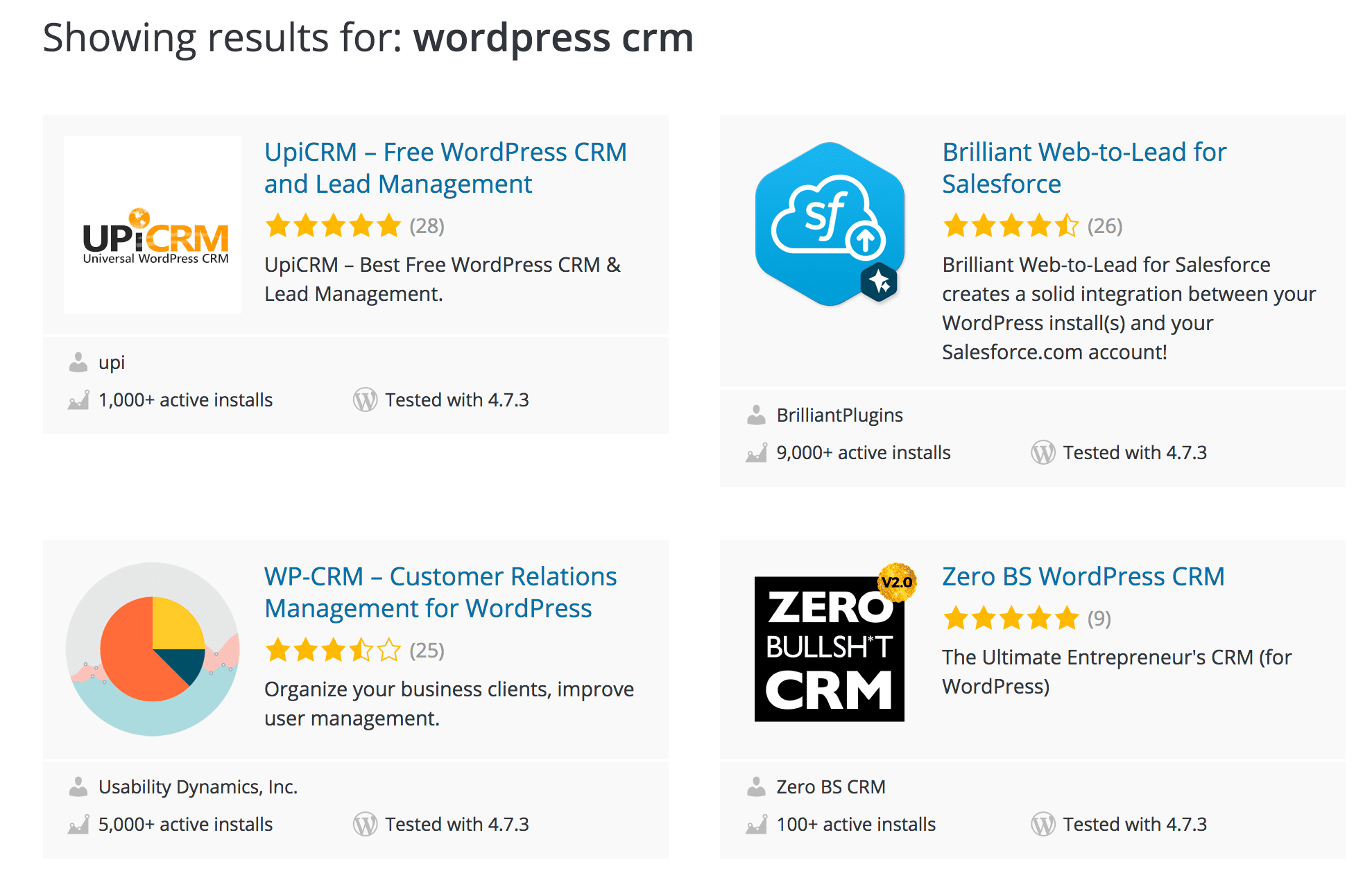 We covered 12 of the WordPress CRMs in this post and to recap on the top results for "WordPress CRM" the following four come up
Zero BS CRM
WP-CRM (and WP-INVOICE)
UpiCRM
Brilliant Web-to-Lead for Salesforce (not a WordPress CRM)
A lot of the other results are WordPress plugin integrations which simply add forms to your WordPress site. These forms then post the data to your CRM (such as Salesforce) and do not give you a CRM from your WordPress website, but rather give you tools to get leads from your site into an externally hosted CRM. When comparing the features of the CRMs that give you full CRM capability in your WordPress install, one stands out as heads above the rest. Zero BS CRM.
And don't let the name fool you! This CRM plugin is packed full features. Zero BS CRM has recently done a feature comparison against WP-CRM and UPiCRM (you can see the full comparison here). They've also included WP-Invoice which is an add-on to WP-CRM. Each of these solutions come with optional extensions to take the CRM to the next level, with the exception of UPiCRM.

When testing each of these the UPiCRM didn't have any paid extensions but was lacking in a lot of features present in Zero BS CRM and WP-CRM (+WP-INVOICE). With UPiCRM it enabled you to manage your leads and give other users lead management access but it didn't do much else (We also struggled with how to use it since there's no walk-through or welcome pages). WP-CRM and WP-INVOICE, when combined with their extensions, give you a solid CRM but it soon gets quite expensive and we found it quite difficult to figure out what features we needed.
In fact, summing up these extension costs you're looking at $465 a year to run the CRM with all of their capabilities. They offer a bundle, but this doesn't have all the extensions available, just a limited few. Even with all the extensions in WP-CRM and WP-INVOICE, there's a lot of things missing such as logging transactions, reporting, and the ability to issue quotes (without having a paid extension).
Diving into Zero BS CRM
Zero BS CRM has been around for a year but comes out of the Epic Plugins (and Epic Themes) development companies. Even though it is fairly new, these guys are not newcomers to the WordPress space and have built 50+ plugins and 10+ themes. The main attraction to Zero BS CRM is the simplicity and ease of getting started. It comes with an easy to follow welcome wizard which walks you through the settings and asks which modules you plan to use (quotes, invoices, forms, etc).
You can download the free version of Zero BS CRM from the WordPress repositoryor by searching for "Zero BS CRM" within your dashboard.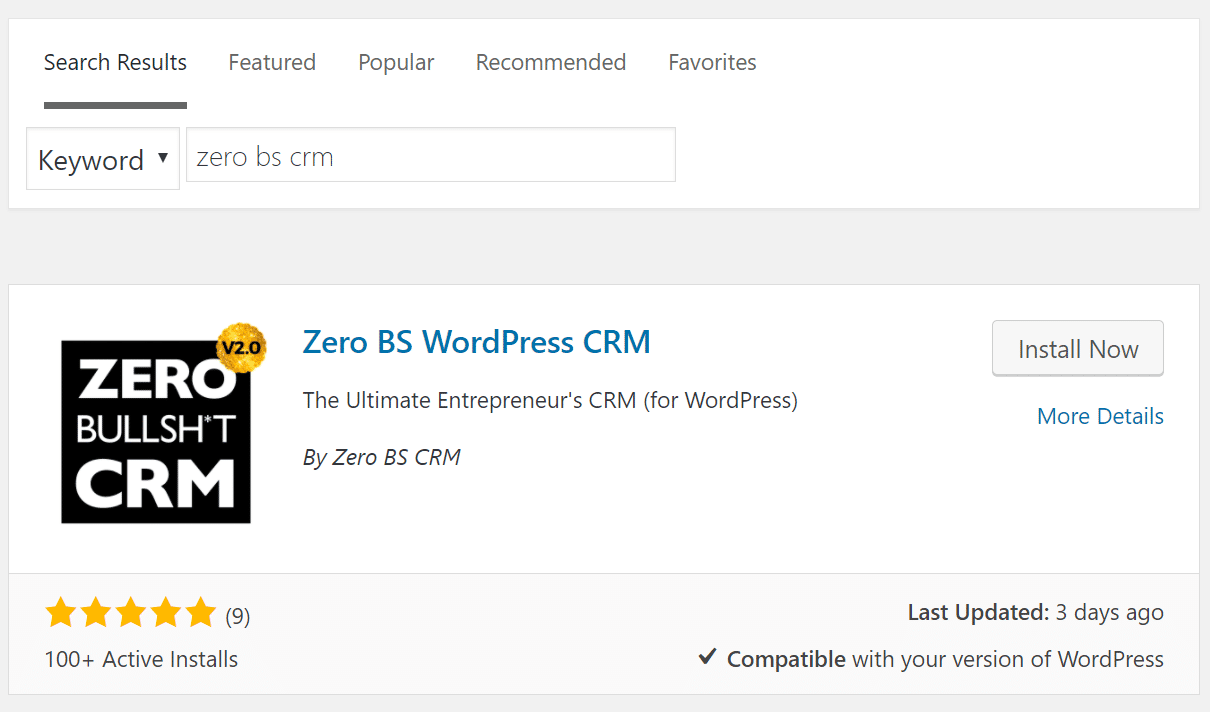 It's modularized so you're not presented with loads of options and pages to try and figure out what's going on. Remember those stats we shared above? People want simplicity and ease of use! This makes it really easy to get going.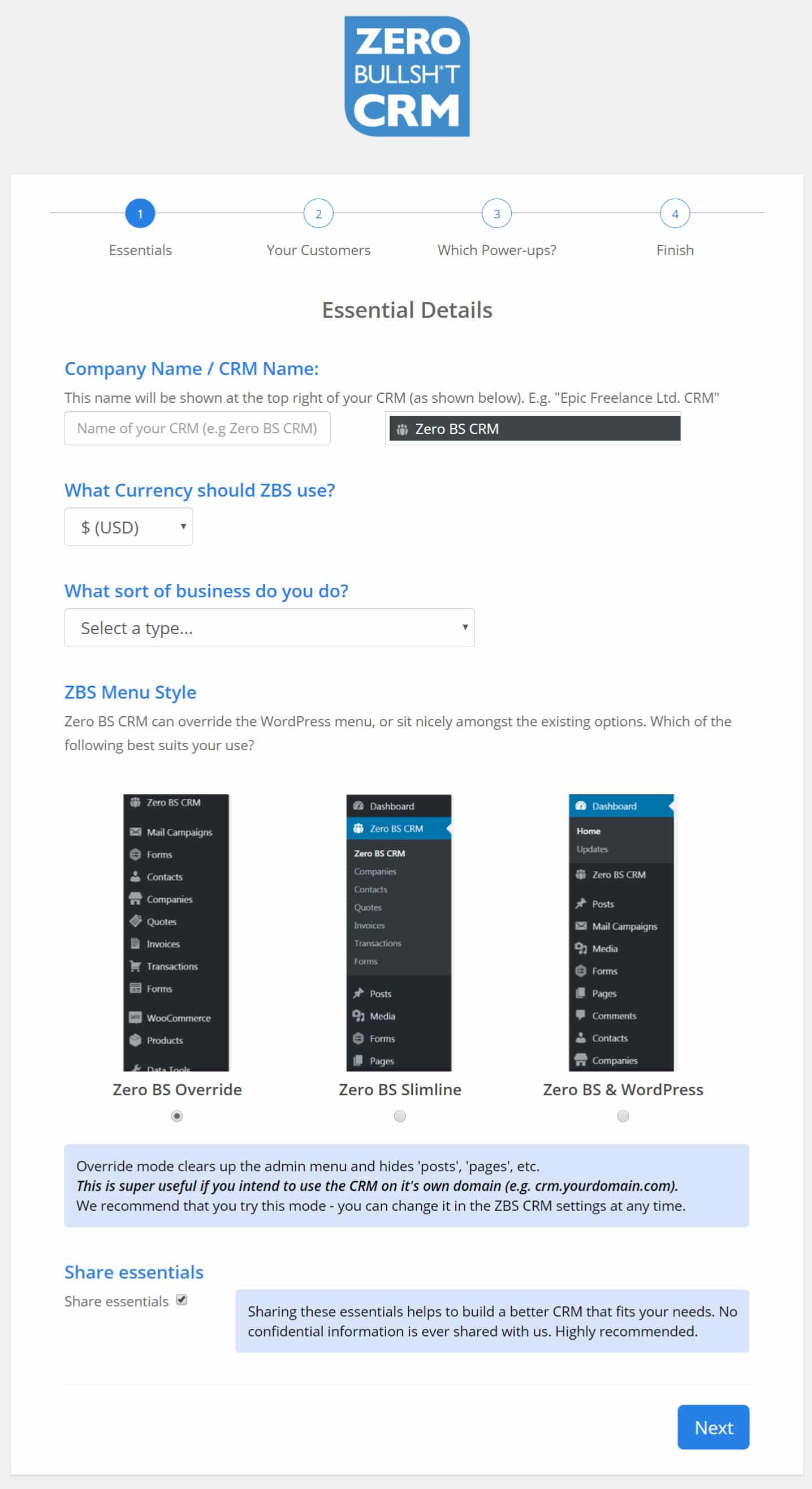 It even tailors the welcome wizard based on what you tell it. For example, if you're a freelancer it will suggest that you use lead forms, quotes, and invoices. There are also bundles, such as the freelancer bundle or if you're a small business it will suggest the entrepreneurs bundle to you. In our example, we chose "small business" as our type. And on the next page, it asks us about adding the PayPal and WooCommerce extensions, as those are probably something a small business would need. Remember though, these are all optional.It even tailors the welcome wizard based on what you tell it. For example, if you're a freelancer it will suggest that you use lead forms, quotes, and invoices. There are also bundles, such as the freelancer bundle or if you're a small business it will suggest the entrepreneurs bundle to you. In our example, we chose "small business" as our type. And on the next page, it asks us about adding the PayPal and WooCommerce extensions, as those are probably something a small business would need. Remember though, these are all optional.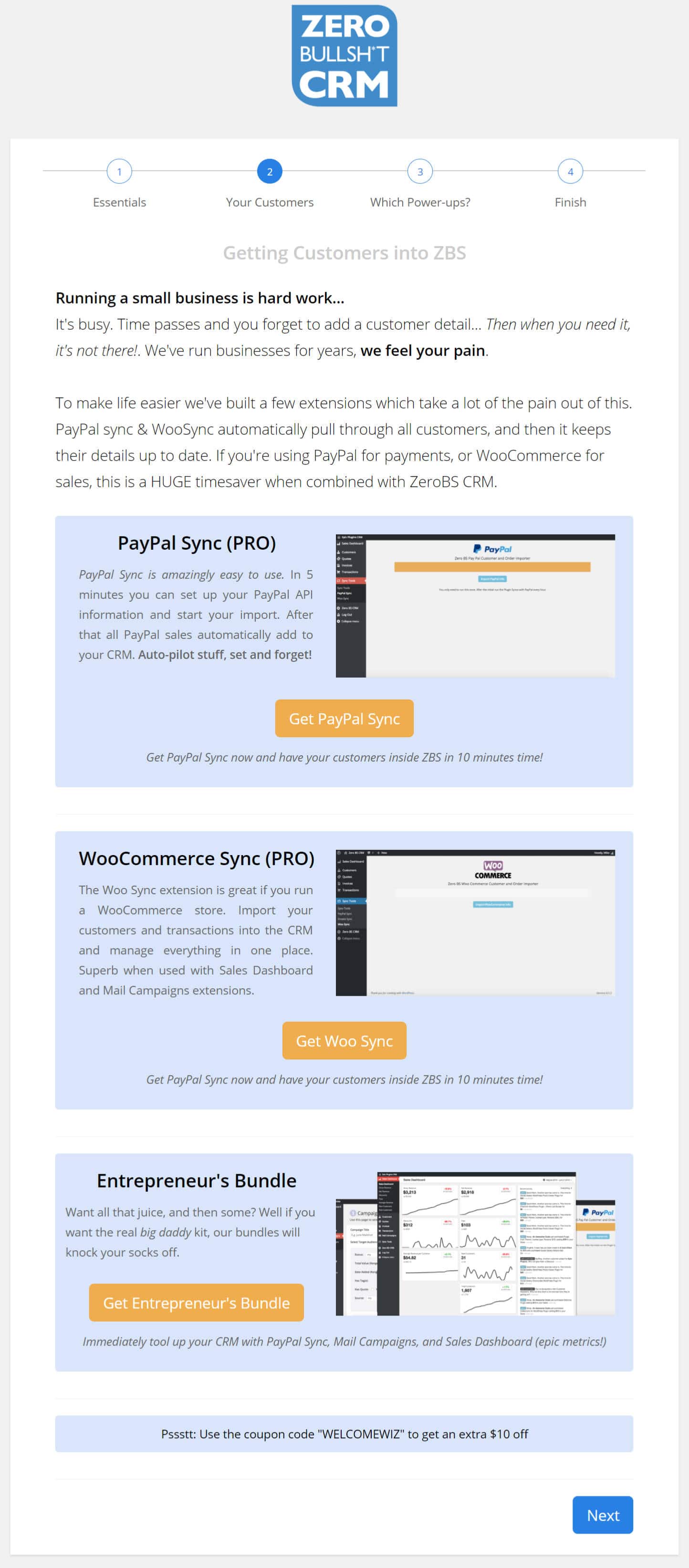 On the next page, it asks us about additional options that we might want to enable, such as quotes, invoices, forms, etc.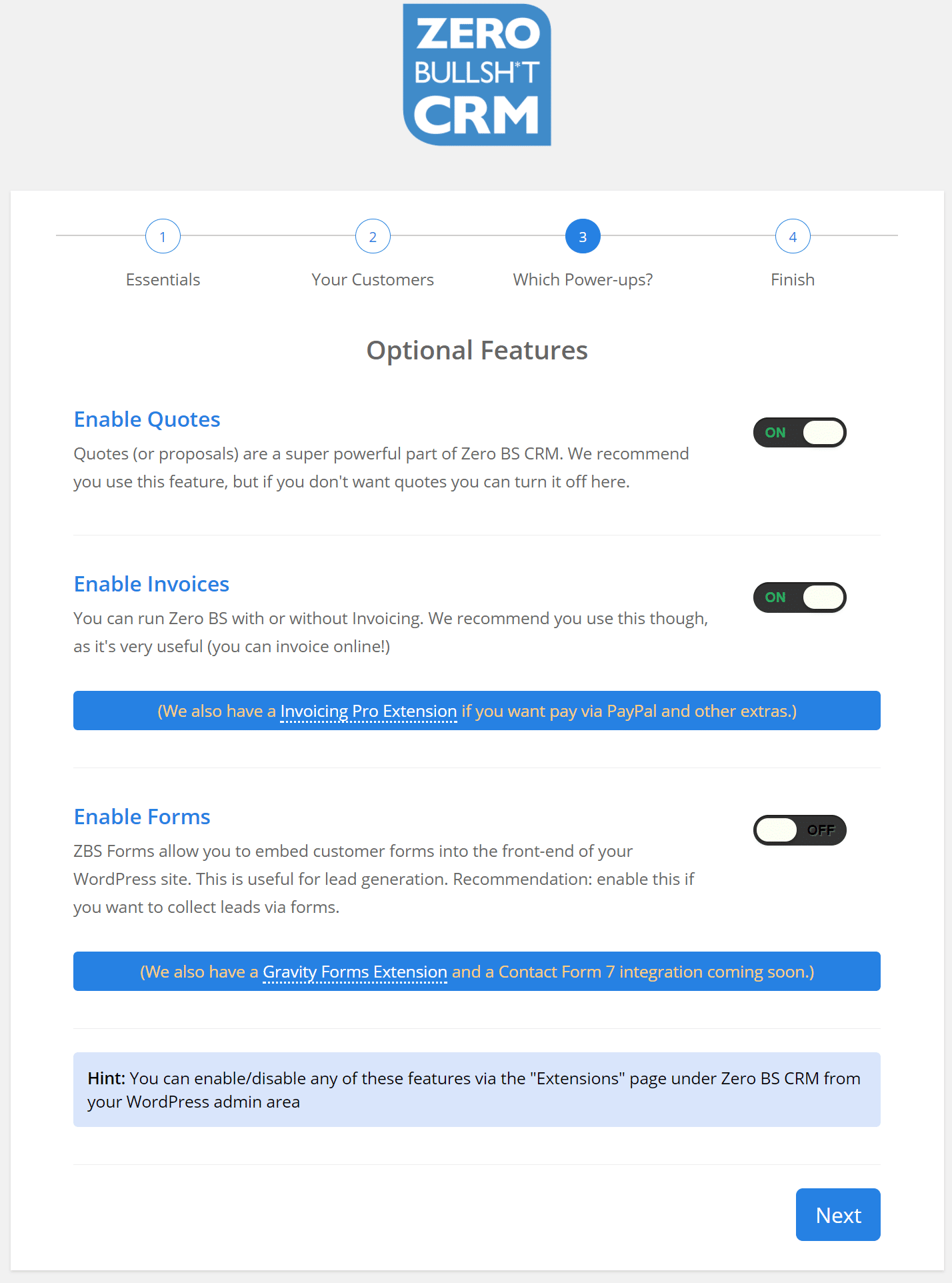 And that's it! 4 easy steps and you are now ready to use WordPress as a CRM.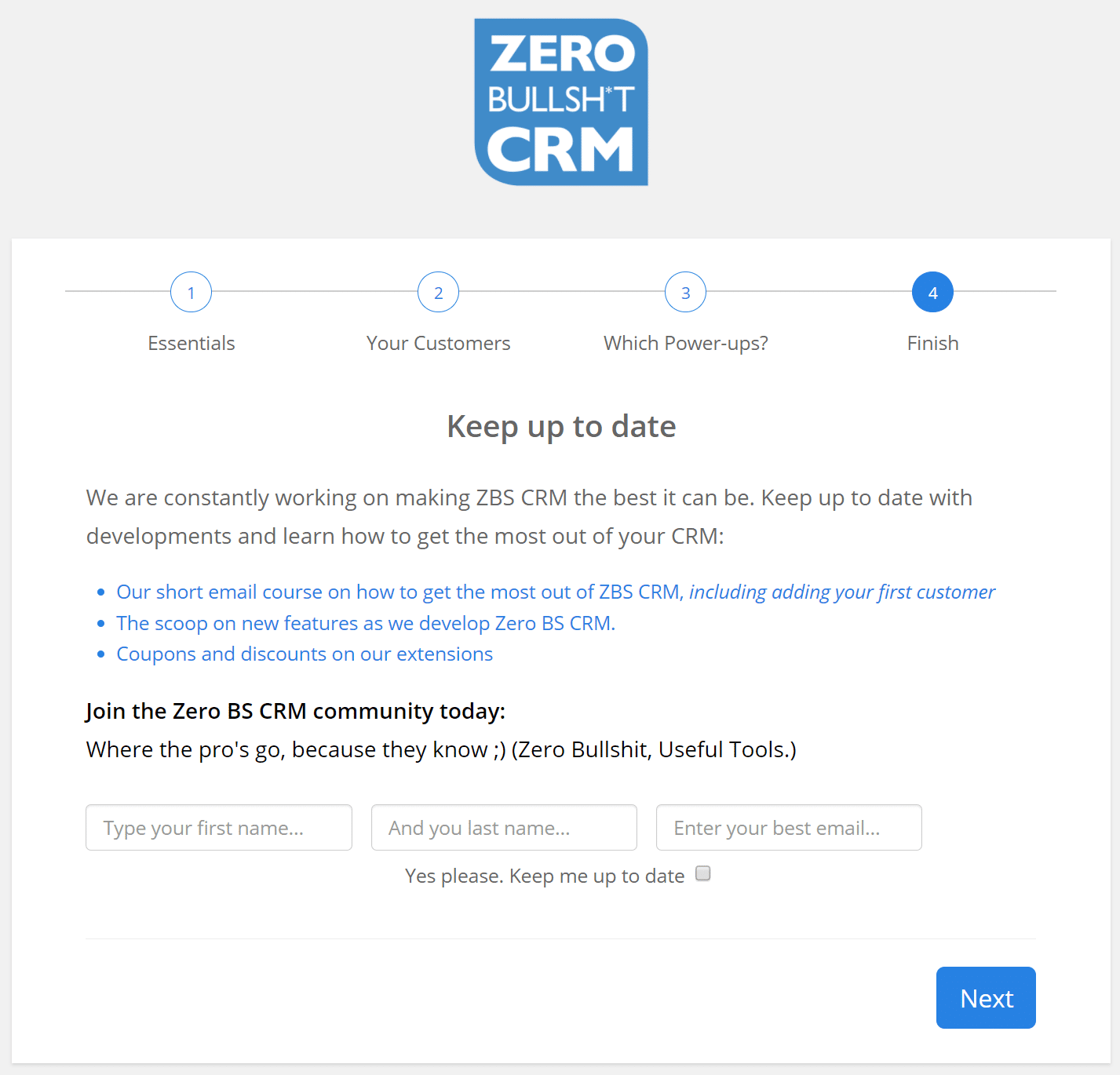 The dashboard of Zero BS CRM is very easy to use and you can quickly access everything from customer data, quotes, invoices, transactions, etc.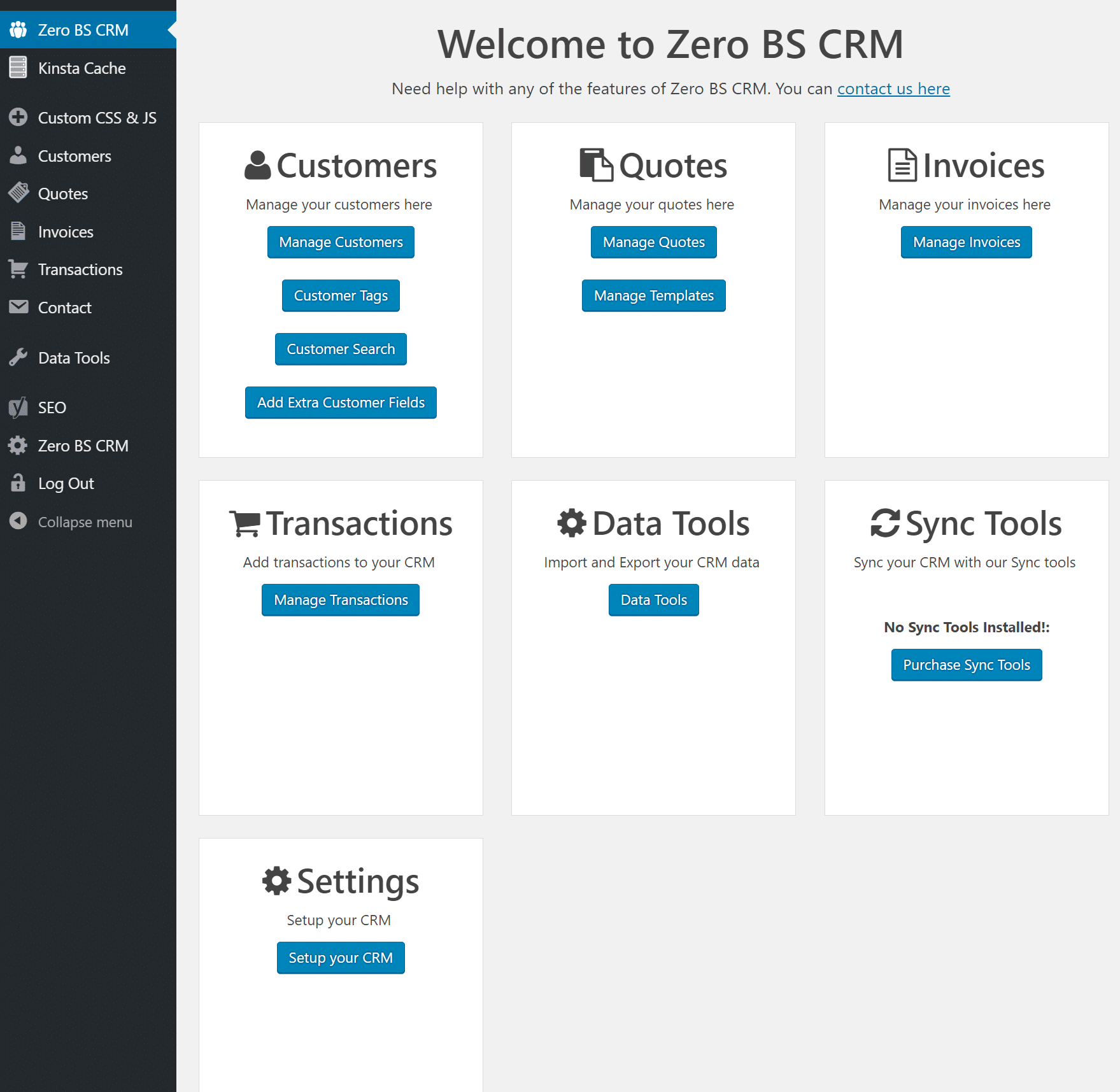 For those that are a little more advanced, there are plenty of amazing options hidden away in the settings panel. You can create custom fields, change the order of fields, create invoice and quote templates, and much more.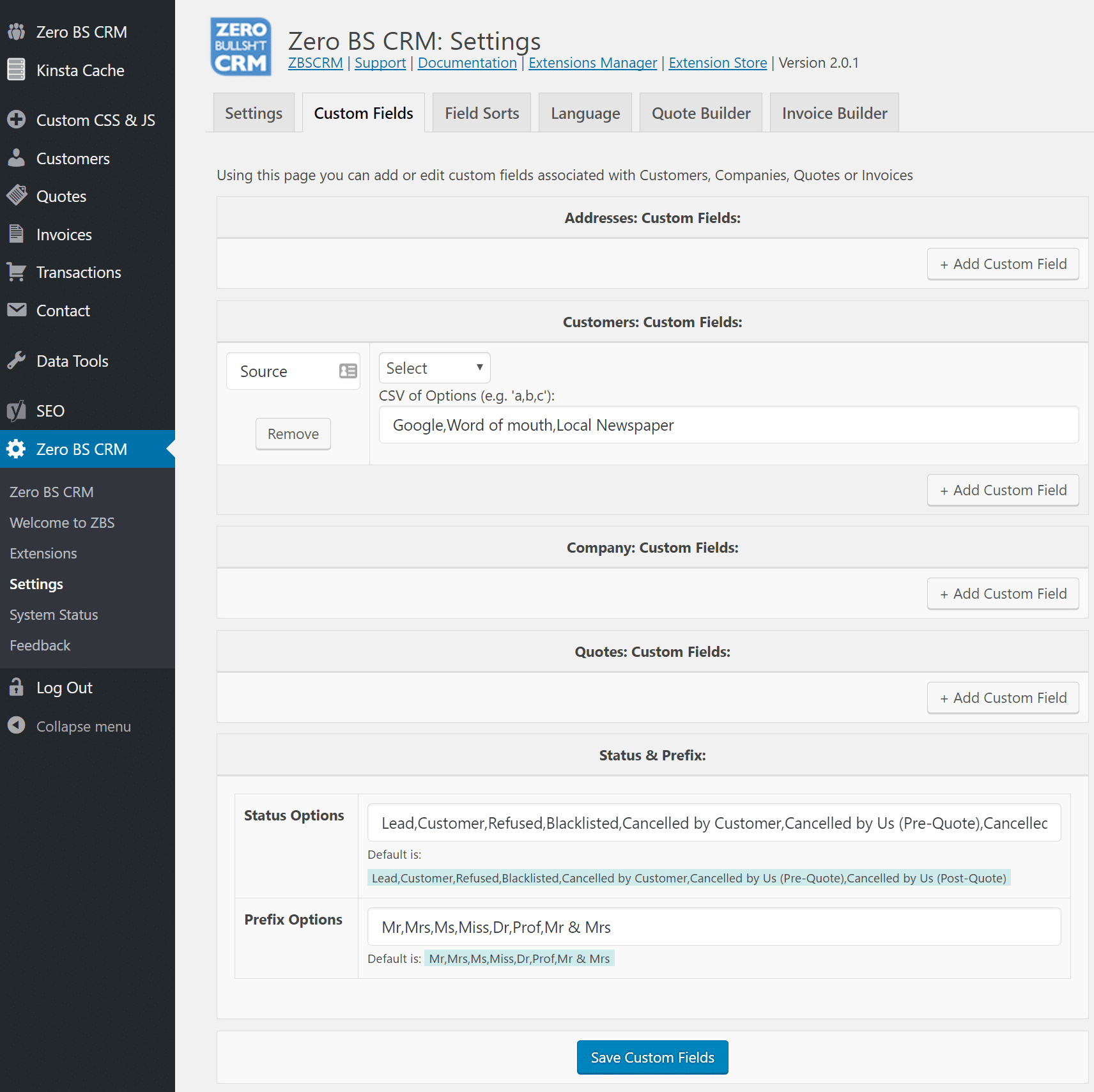 You can then manage all of your customers in an interface within the WordPress dashboard that you are already familiar and comfortable with.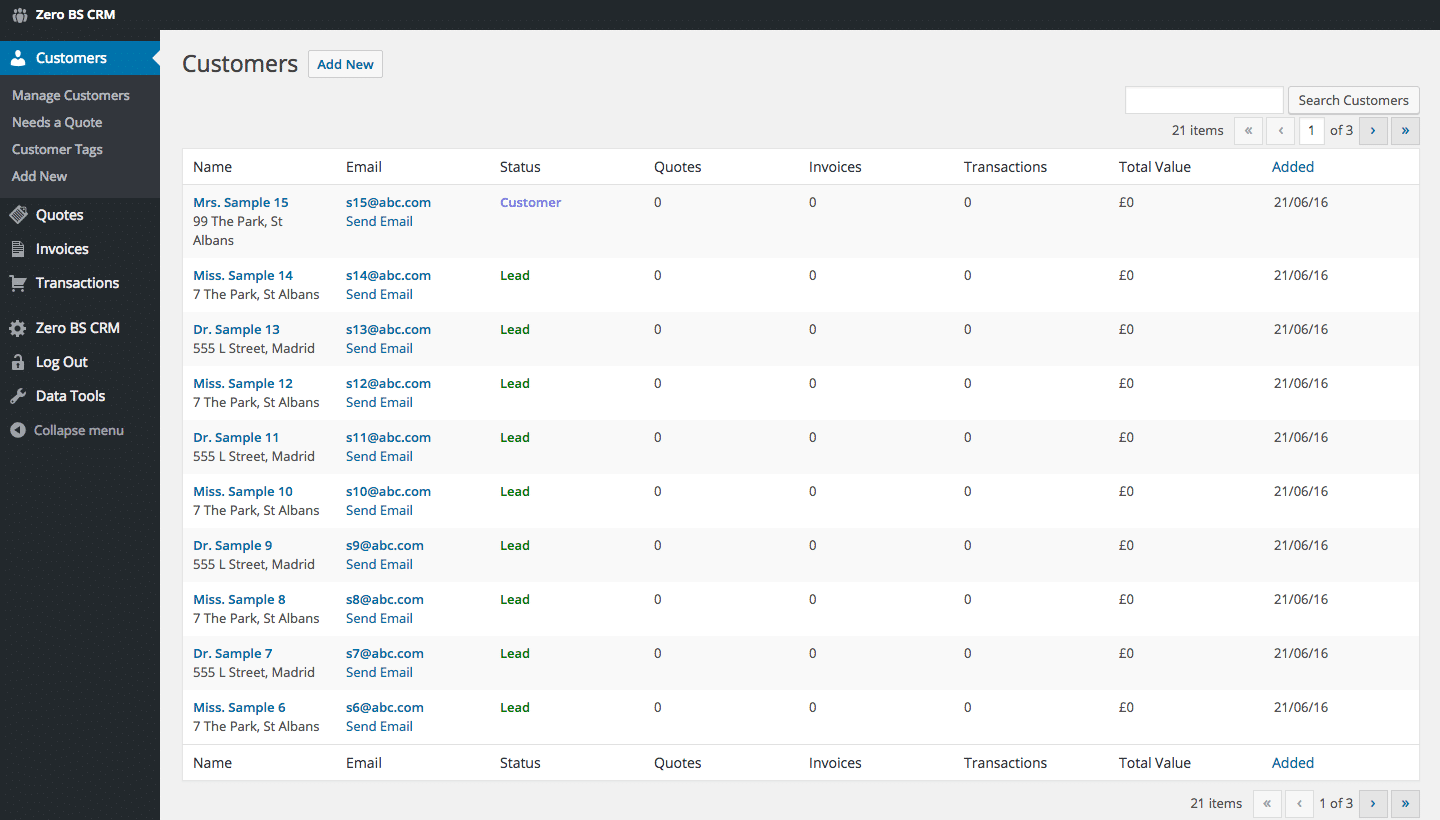 The latest release of ZBS CRM really makes it the top contender for your WordPress hosted CRM. Here are some of the following benefits over "pay as you use" type CRMs:
The data is yours and you self-host it, which allows you to manage the cost
Security is handled via your WordPress install and hosting provider
There are no limits! You can have as many customers as you want or need
There is no per user or per month pricing structure, so you can easily scale without additional costs
What You Can Do With Zero BS CRM (That You Can't With Others)
One thing that really stood out to us when it came to the features comparison table is that Zero BS CRM does quite a bit without the need of extensions. Using Zero BS CRM without any extensions you can:
Generate leads using the built-in lead generation forms
Maintain a central customer (or contact) list
Search customers by name
Tag customers with specific customer tags
Assign contacts a specific status (lead, customer, VIP) etc
Send contacts quotes for services giving them the ability to accept online
Send contacts invoices and allow them to view them from their portal
Log transactions against contacts and see their total value
Makes notes about the contact on their own activity log (activity logs are important)
With extensions though you can add even more capabilities, such as:
See which day of the week you get the most customers from
Send email campaigns to segments of your customers (send an email to anyone called Mike, who has a tag of 'gold member'
Capture leads using Gravity Forms
Accept invoice payments online using PayPal or Stripe
Import your customer history from PayPal
Import your customer history from WooCommerce
One really cool extension is the sales dashboard. This gives you a "Baremetrics Style" overview of your gross sales, net sales, fees, discounts, customer growth, new customers and average revenue per customer.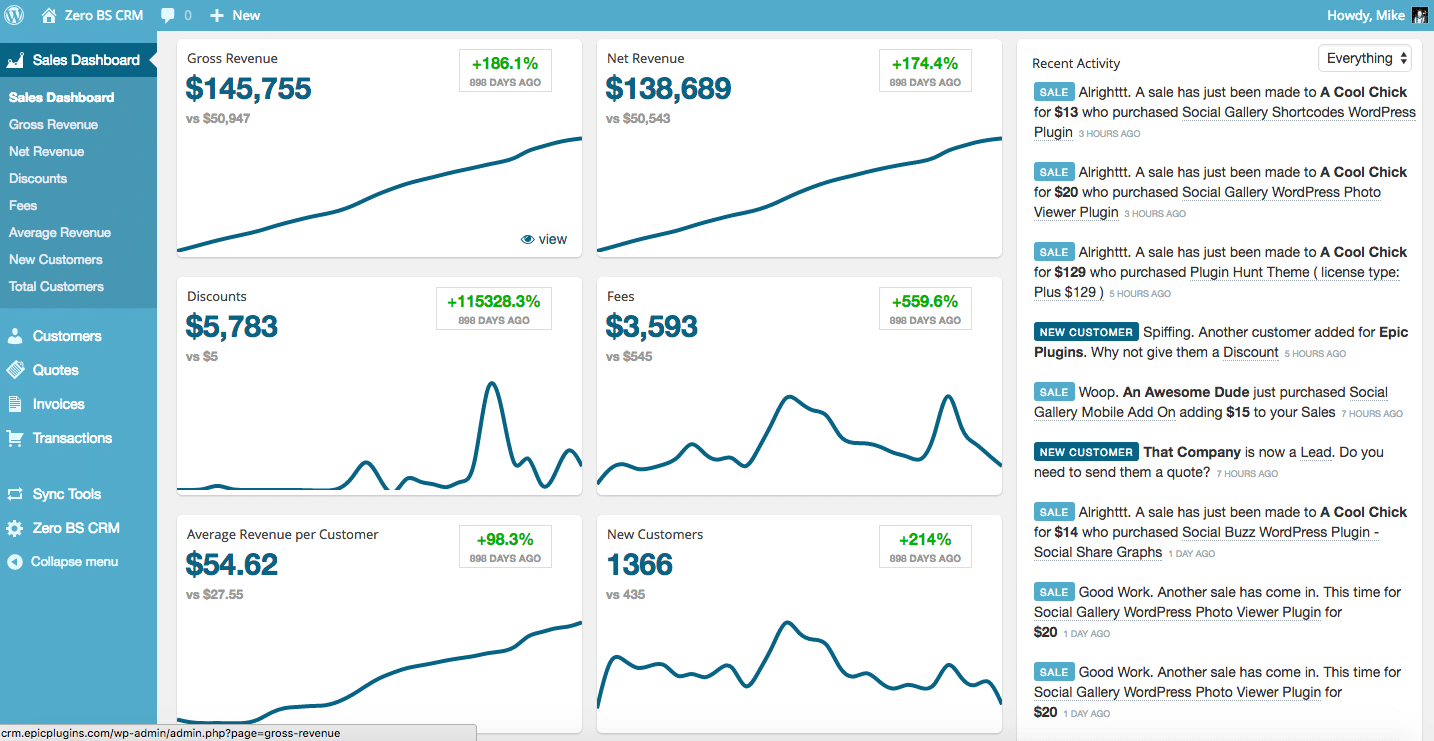 Another stand out feature with Zero BS CRM is the availability of an API giving the ability to integrate it with a tool like Zapier and program your CRM to do whatever you'd like it to do. The API is included in the free version fo the CRM from v2.0.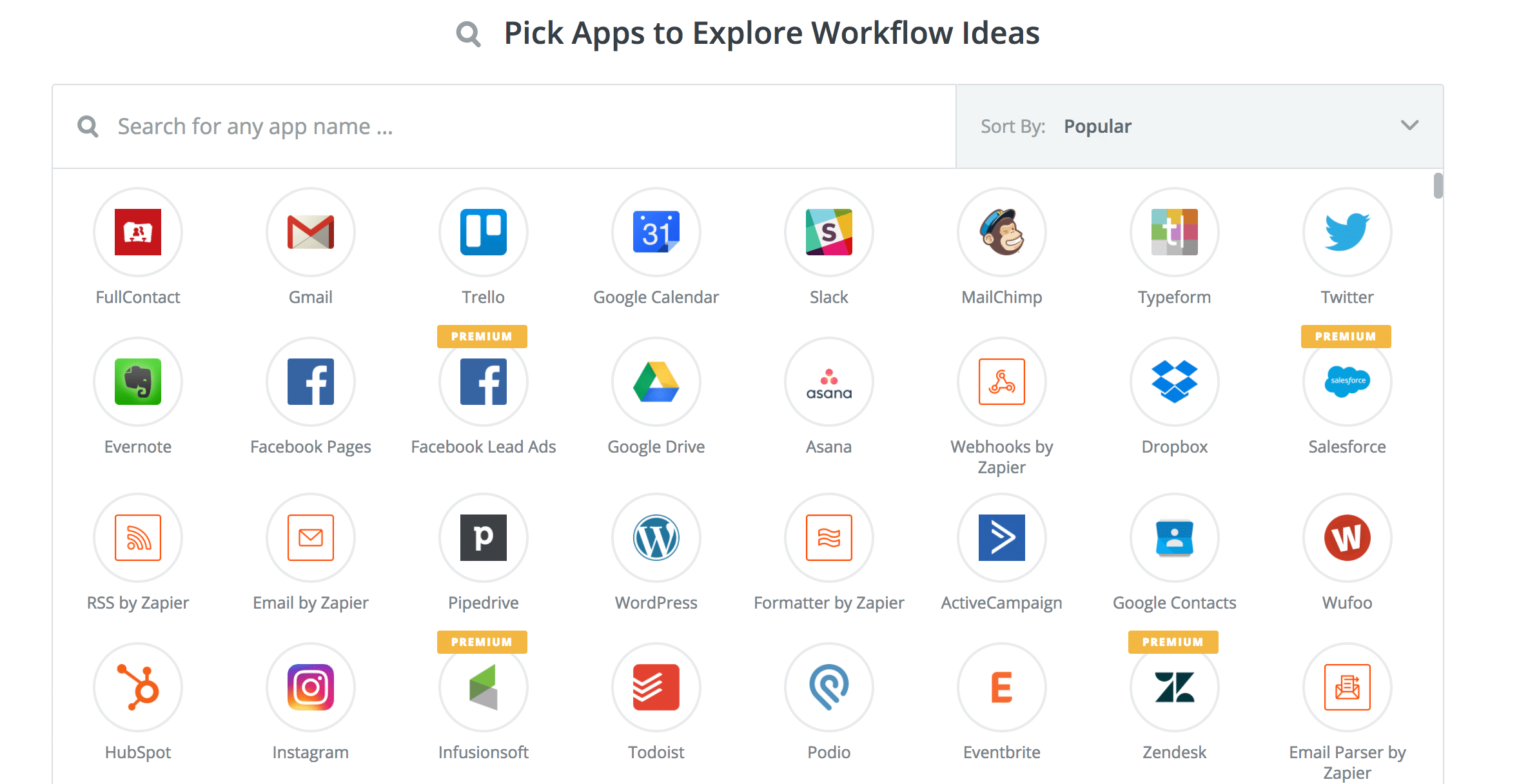 Why does this matter? Well, Zapier has the capability to connect thousands of applications. This means you can do "Zaps" like the following:
When a new customer is added to your ZBS CRM it adds them to ConvertKit with a specific tag
When you receive a Stripe payment it adds them to ZBS CRM as a new customer
Create a new row in a Google Sheet whenever a new customer is added to ZBS CRM
Create a new Trello Card when a new customer is added
When a new email is received on Gmail it will add the sender as a contact in ZBS CRM
Zapier is really cool and adds a lot of functionality, free accounts are limited to 5 "Zaps." So if there's an extension to do something you think could be done via Zaps (like adding a new customer and transaction following a successful PayPal transaction) then the extensions should be used. This saves your Zaps for the extra automation and exploring new workflow ideas while keeping your CRM central to everything you do.
But What Does it Cost?
The full features comparison of the CRMs shows that the majority come with an extension type system. Zero BS CRM is no different and they offer the following extensions.
Freelancers Bundle – $129  (usually $259)
Entrepreneurs Bundle – $199 (usually $499)
Resellers Bundle – $649 (usually $1,299)
The freelancer's bundle gives a limited number of extensions hand-picked for freelancers, whereas the entrepreneur's bundles give you access to everything. The entrepreneur's bundle extensions package retails at $499 per year (optional renewal) but is discounted down to $199 (since zero BS CRM was launched last year). The renewal price is similar to how WooCommerce and Easy Digital Downloads run large-scale solutions like an e-commerce store. It's not required for continued use of the extensions but maintaining the subscription gives you continued access to support and future updates of the extensions.
Summary
If you're not using a CRM for your business then you really should consider starting to use one. To keep control of costs, using a self-hosted CRM is a no-brainer. And pairing it up with WordPress makes it even more powerful! If you're already using a CRM (such as Salesforce) and want to manage your costs as your business grows then consider a WordPress CRM solution such as Zero BS CRM. If you have a team of 10, paying $30 a month then switching to something like Zero BS CRM can save you thousands a year potentially without sacrificing any features you're used to in your existing CRM.
Subscribe Now
10,000 successful online businessmen like to have our content directly delivered to their inbox. Subscribe to our newsletter!
Archive Calendar
Sat
Sun
Mon
Tue
Wed
Thu
Fri

1

2

3

4

5

6

7

8

9

10

11

12

13

14

15

16

17

18

19

20

21

22

23

24

25

26

27

28

29

30

31