Category : WordPress
Posted on :

Sep 06, 2018

Views :

1,261

By :

Xavier N.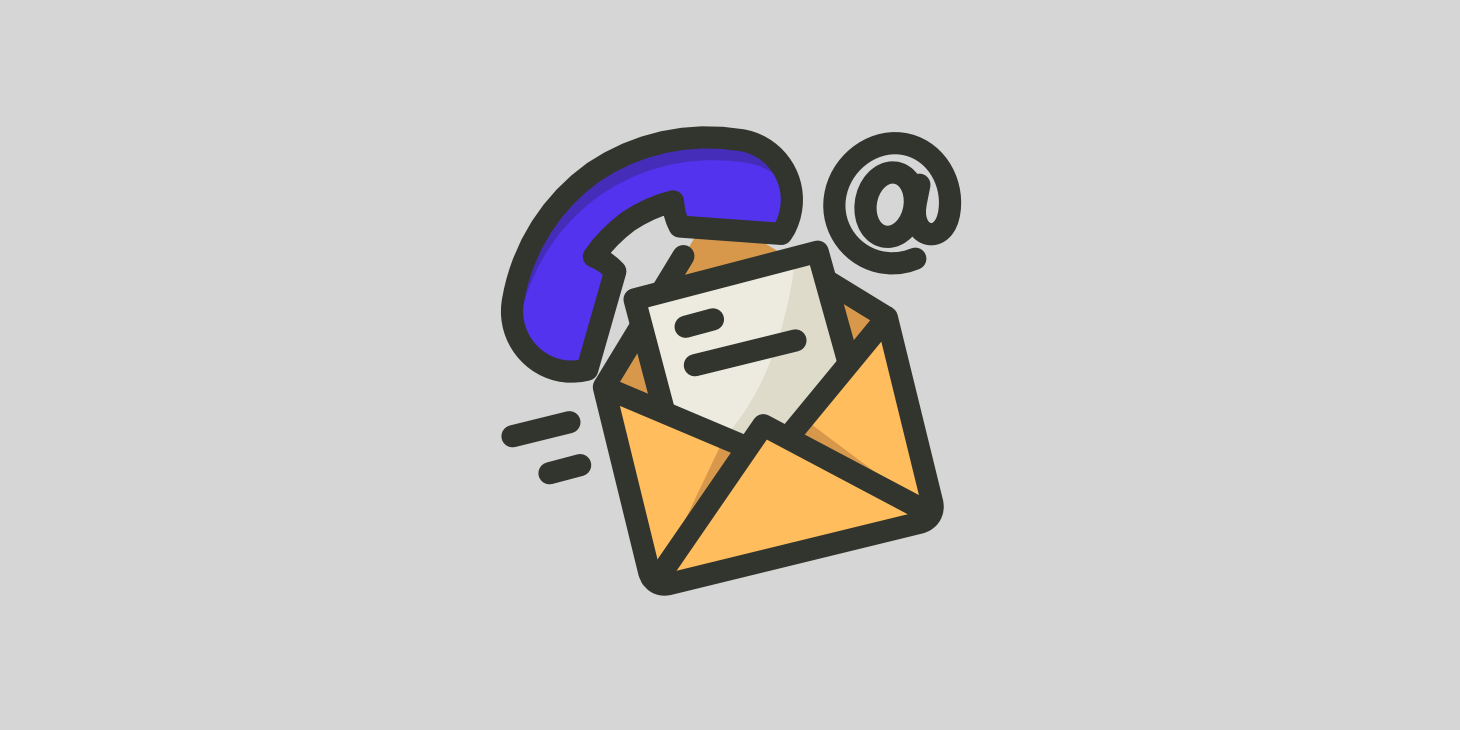 You've pieced together your new WordPress site like a work of art. Everything's in place: the logo, About Us page, a small eCommerce store, menu, and customized blog. It's time to pull the trigger, right? Wait a minute. Did you forget one of the most basic parts of a website? That's right: the contact form.
Some developers know to add it right away, because it's incredible how easy it is to forget about this form of communication. And it would be a shame to skip the contact form, since many customers scoff at the idea of calling into your customer support line, while others have no intention of taking their mind off work to sit on a live chat module.
That's where these WordPress contact form plugins come into play. Customers can send in a quick email without spending too much time, and the website with the form can field the message in a timely manner. Not only that, but contact forms prevent spam and allow you to expand the way you interact with your customers (like with conditional logic, which updates the form based on how the user responds).
These WordPress contact form plugins come in many forms, so it would be prudent to browse through the comparison to see which one is right for you. After all, some websites require an expensive, and powerful, WordPress contact form, while others only need the basics.
WordPress Contact Form Plugins Features
At its most basic, a WordPress contact form plugin delivers a handful of fields and minimal design tools. It's meant to keep your customers in contact with you. On the other hand, the more advanced contact form plugins support conditional logic, design tools, and file submission options. This is in no way a complete list, but here are some features to look forward to:
Custom forms – With multiple fields, options, and branding tools.
Visual builders – Drag and drop editors are great, but not entirely needed.
Conditional logic – Show or hide certain elements (like buttons, fields, or form sections) based on what the user selects on the form. This also helps to send customers to different departments.
Communications – Some sort of email communication system that lets the right people know that a new message has arrived.
Frontend file submission – Let clients upload ideas in document form. This is also great for customer support where the user takes a screenshot of their problem and submits.
Responsiveness – You'll want the form to show up on all devices, big and small.
Spam protection – Forms are made to prevent some spam in the first place. But you should expect even more protection from your WordPress contact form plugin.
1. Gravity Forms – Starting at $59 per year
Gravity Forms combines a clean interface with user-friendly tools that are still somewhat advanced for improving customer support websites. The forms, entries, and conditional logic is all unlimited through Gravity Forms, and it also supports things like file uploads and multi-page forms.

The standard Gravity Forms support includes a full ticketing system, an FAQ page, documentation, language translations, and several other resources. The priority support is only available if you go with the most expensive plan ($259 per year,) so that would send you to the front of the line.
There's no live chat or phone support, but as you'll see with most contact form plugins, those aren't really necessary.
Main Reasons to Consider This WordPress Contact Form Plugin
The plentiful documentation includes a getting started guide, information on add-ons, popular features, and developer docs.
Gravity Forms supports a wide range of add-ons and external integrations. You can find dozens of them listed here, including AWeber, Dropbox, Freshbooks, GetResponse, MailChimp, PayPal Pro, and Stripe.
The pricing is great for all the features you get.
You get access to more than 30 form fields.
Conditional logic is built right in.
Gravity Forms supports email notifications, file uploads, and the option to save and continue.
Perform advanced calculations based on user submissions. (Might be used for a finance or real estate website).
You have the option to limit the number of submissions through a form. You can also schedule forms.
Gravity Forms allows for frontend user content submissions, which would publish to your WordPress blog.
2. Ninja Forms – Free (Memberships Start at $99 per year)
Ninja Forms has a free version in the WordPress library, but we figure most legitimate companies will consider a premium version membership. The free contact form plugin provides a beautiful user interface for building your own contact forms. There aren't any limitations for forms, fields, or emails received, and you can save your forms for later.
The majority of the fields and features in the free version are pretty basic, but it's easy to configure your forms and make them look nice on your website. This plugin rivals that of the Contact Form 7 plugin (featured below).
When you signup for a membership you gain access to dozens of add-ons, customer support, updates, layouts, multi-part forms, conditional logic, and more. Plus, Ninja Forms does a good job of keeping costs low when you decide to buy a package or membership instead of one or two add-ons.
Main Reasons to Consider This WordPress Contact Form Plugin
Ninja Forms has more than 40 add-ons, including one for conditional logic, multi-part forms, front-end posting, file uploads, layouts, and styles.
You can hook your forms up to services like MailChimp, Campaign Monitor, and AWeber.
Collect payments directly through your forms with the help of PayPal Express or one of the many other payment processors.
Connect with Zapier to remove most limitations in terms of integrations and automation.
Hook up to your favorite CRM, like SalesForce.
The pricing isn't bad either.
3. HappyForms – Free
HappyForms is one of the newer contact form plugins on the block, but one thing we really like about it is that it's completely built in the WordPress Customizer. This means you don't need to learn a new UI, it's something that most of you are probably already familiar with. It's being developed and maintained by The Theme Foundry, who know the WordPress space very well as they've been designing themes for years.
HappyForms is super lightweight in terms of code and performance. It's 100% free and works great for those just needing something fast and easy.
Main Reasons to Consider This WordPress Contact Form Plugin
It's free!
It's using a drag and drop form builder you probably already know.
Messages are copied into the WordPress admin dashboard along with a handy notification. Or you can, of course, have them sent to your email as well.
It includes one-click honeypot and Google ReCaptcha spam prevention.
You can easily drop forms anywhere in pages, posts, and even widget areas with a shortcode.
Note: There is a small "powered by HappyForms" at the bottom of the form. Some businesses might prefer not to have this.
4. Contact Form 7 – Free
Contact Form 7 is not only insanely popular, but it has been free for as long as I can remember. This minimalist gem delivers what most blogs and small businesses need: a basic contact form that's stable and reliable. At first, you might think that the best part of Contact Form 7 is that it's completely free (no premium plans,) but there's more to the plugin than that.
In fact, you might argue that the support is the best part, since this free plugin includes documentation, an FAQ, a support forum, and a full website with information. That's more than what you get with some premium plugins.

As for the features, you can create an unlimited number of forms, use several types of fields like date, URL, email, and text, while also including the email address of your choice to receive your messages from customers.
Main Reasons to Consider This WordPress Contact Form Plugin
It doesn't cost you anything.
Contact Form 7 looks as sleek and minimal as you can find.
You have support for several unique fields such as a CAPTCHA, file submission, quizzes, acceptance, radio buttons, checkboxes, and drop-down menus.
The docs, FAQs and support links are all placed right in the WordPress dashboard.
You can place the contact form anywhere you want using the simple shortcodes.
5. HubSpot All-In-One Marketing
HubSpot's WordPress plugin is more than just your traditional form builder. This plugin allows you to connect HubSpot CRM with WordPress so you can easily organize and segment your contacts into lists.
With HubSpot, you get a lead generation dashboard, lead capture tools like popups, slide-ins, and exit intent forms, a static form builder, a contact database, and lead insights for the first seven days of website activity after lead capture. All these features work immediately, right out of the box, with no development help required.
Main Reasons to Consider This WordPress Contact Form Plugin
It's free!
Intuitive drag-and-drop interface
Unlimited fields and submissions
Compatible with other plugins like Ninja Forms and Gravity Forms
Built-in analytics to analyze your best pages
Seamlessly integrates with a CRM to manage your contact database
Live chat and bots
6. weForms – Free (Premium starting at $39 per year)
weForms is a newer contact form plugin on the market. It's created by the team over at weDevs, who are well known for their other plugins such as WP Project Manager Pro, WP User Frontend Pro, and WP ERP. The free version surprisingly includes quite a few features, including being able to see contact form submission data in the WordPress admin.

Main Reasons to Consider This WordPress Contact Form Plugin
The $39 per year is a similar price to other premium contact form plugins.
Integrations with MailChimp, AWeber, MailPoet, Constant Contact, Campaign Monitor, Get Response, and Convert Kit (some only in premium versions).
weForms also has other nifty integrations with Zapier, Trello, Google Sheets, and Slack
Easily embed your contact form with a shortcode.
Google's reCaptcha is built-in to prevent spam.
Has a beautiful AJAX drag and drop builder with instant live preview. Their builder is probably one of the fastest!
Support for multi-step forms which have been shown to increase conversions.
Redirect your forms to a URL.
7. WPForms – Free (Premium starting at $39 per year)
The WPForms plugin is touted as one of the more beginner-friendly contact form solutions on the market. This is definitely true due to its drag and drop editor. The free version is fine for smaller websites, but I very much prefer the premium memberships because of the low prices and wonderful features.
That said, the drag and drop visual editor is ahead of its time, seeing as how nothing seems to ever go wrong with it, and the average user isn't going to be too confused. Customers also get form templates, conditional logic tools, and entry management.
Main Reasons to Consider This WordPress Contact Form Plugin
The $39 per year starting fee is reasonable.
You can integrate your forms with MailChimp, GetResponse, Campaign Monitor, and AWeber.
WPForms also has an integration with Zapier.
Embed your forms anywhere.
Use the partial entry form tool to hunt down more leads.
Utilize geolocation data to learn more about your users.
Split long forms into multiple pages.
All of the forms are completely responsive.
The forms can use conditional logic depending on how users respond.
The entry management lets you view all submissions in one area.
WPForms lets users submit files from the frontend.
8. Caldera Forms – Free (Starting at $13.74 per month)
Caldera Forms (by Caldera Labs,) is yet another favorite for those looking for a free contact form. The premium plugin isn't cheap, so I'd personally try my hardest to see if the free option would work for my business. The free version of Caldera includes a simple drag and drop editor, along with many add-ons for both beginners and advanced web developers.
The whole point is to make things as easy as possible, and much of this is done through the editor. Several great field types come with Caldera, and you can play around with the conditional logic to show specific options based on how your customers reply to your forms.
Main Reasons to Consider This WordPress Contact Form Plugin
There is a powerful free version.
Some of the field types include calculations, drop-down selections, and radio buttons.
Users can upload their own files to the form.
Users can submit their own posts through a form.
There are unlimited auto-responders, fields, and submissions.
You can export entries to a CSV.
The anti-spam tool clears up time you otherwise would have to spend cleaning out the spam.
All Caldera forms are responsive.
9. The Jetpack Contact Form – Free
If you could only select one WordPress plugin to install on your website, Jetpack would probably be right at the top of the list. The reason for this is because it includes everything from anti-spam to caching support, and social media tools to the Jetpack Contact Form. So, if you've already implemented Jetpack, it might be worth looking into the contact form element.
As you can see in the screenshot below, the Add Contact Form button gets placed above every page and post creation area. This makes it easier to insert a form wherever you want.

Upon selecting the Contact Form button and designing your form, you end up with a professional, functional contact form without any of the bells and whistles.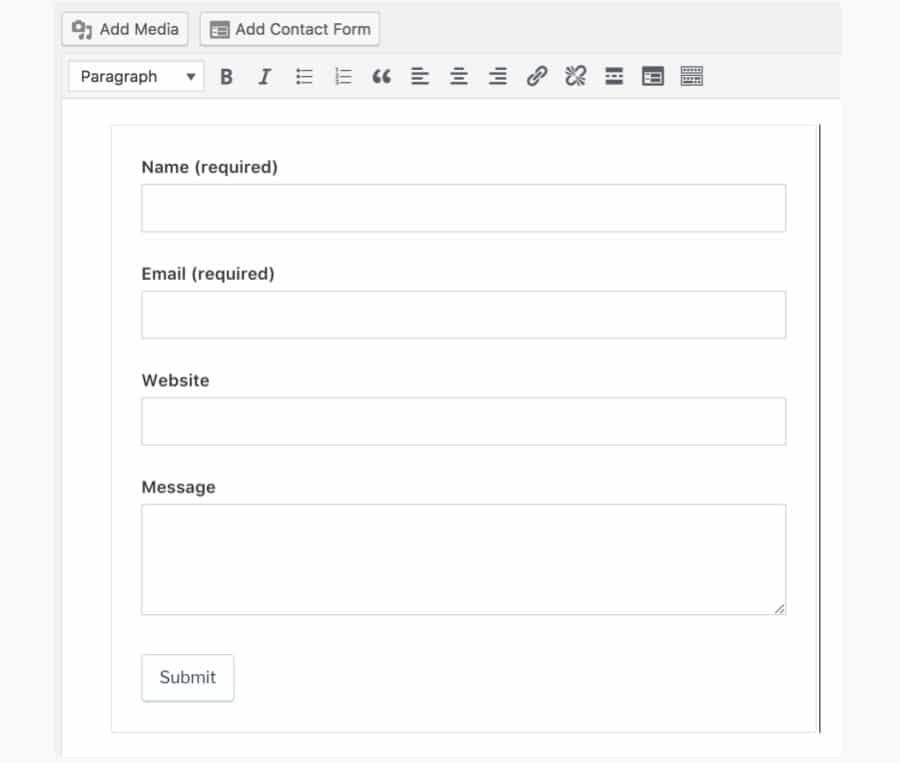 Main Reasons to Consider This WordPress Contact Form Plugin
Jetpack is free, and many WordPress users already have it installed on their websites. Not to mention, Jetpack is one of those plugins that's not going to give you any problems in terms of site speed or plugin conflicts.
The easy-access, one-click "form insert" button speeds up the process.
Email notifications are sent to the email address of your choice.
Adjust all form settings right in your post or page editor. This includes the subject field, form fields, email address, and more.
The Jetpack plugin integrates with Akismet to clear spam from every form submission.
It's one of the more basic contact forms that's not going to give you any problems. In short, we like it best for smaller businesses and blogs that only need the simplest form.
10. Contact Form & SMTP Plugin for WordPress by PirateForms – Free (And starting at $29 for premium)
Since the default plugin name is way too long, we're going to call it PirateForms. The Pro Version is sold through ThemeIsle if you're interested in upgrading to some of the following features:
Multiple form creation
A full MailChimp integration
Custom fields
Support for development
Customer support and updates for 12 months
A 30-day money back guarantee
As for the free plugin, it's a simple, yet user-friendly contact form builder with CAPTCHA support. The contact forms are constructed using a basic builder, then you place the finished form on your website using a shortcode. Overall, the PirateForms free version resembles that of Contact Form 7, but maybe with a better interface.
If you're interested in upgrading, the pricing starts at $29.
Main Reasons to Consider This WordPress Contact Form
The $29 (one-time) starting rate for the premium version can't be beaten.
There's also a free plugin for basic contact form functionality, like that of Contact Form 7.
The PirateForms plugin can integrate with MailChimp.
It's a developer-friendly plugin for customizing however you want.
PirateForms allows for multiple forms and custom fields. The Pro version has some interesting integrations like AWeber and SendInBlue.
Choosing a WordPress Contact Form Plugin
When you don't want to pay any money – Go with HappyForms, Contact Form 7, Caldera Forms, Jetpack Contact Form, Flo Forms, or Formidable.
If you'd like beautiful form templates – Go with Ninja Kick, FormCraft, weForms, Gravity Forms, or Formidable.
If you're interested in an incredible drag and drop editor – Go with WPForms, weForms, or ARForms.
When you're looking for the best value – Go with Gravity Forms, FormCraft, Ninja Kick, PirateForms.
If you're using HubSpot CRM – Go with HubSpot All-In-One Marketing, it's a seamless way to get WordPress working with HubSpot.
If you need the most basic WordPress contact form plugin – Go with HappyForms, Contact Form 7, or Simple Basic Contact Form.
The contact form is not only a way to stay in touch with your customers, but it shows that you're a legitimate business. You're open to communicating with users, and that might be all it takes to get a sale or a new reader. If you have any thoughts about these WordPress contact form plugins, let us know in the comments section below.
Subscribe Now
10,000 successful online businessmen like to have our content directly delivered to their inbox. Subscribe to our newsletter!
Archive Calendar
Sat
Sun
Mon
Tue
Wed
Thu
Fri

1

2

3

4

5

6

7

8

9

10

11

12

13

14

15

16

17

18

19

20

21

22

23

24

25

26

27

28

29

30