Category : Development
Posted on :

Apr 26, 2017

Views :

882

By :

Xavier N.
Since the dawn of time, there's been confusion regarding the difference between WordPress.com vs WordPress.org. This confusion is well-warranted because, well, the names are almost exactly the same.
What's the difference between the two? And which one should you use for your website?
We're going to take things much more in-depth later in the post. But let's start with the big reveal:
WordPress.org, AKA self-hosted WordPress, is the actual open source WordPress software that anyone can download and use however they want. You need to purchase your own web host, domain name, and have full control over everything.
WordPress.com is one specific "website as a service" implementation built on the WordPress.org software. WordPress.com hosts your site and handles everything for you, but at the expense of some flexibility.
Recent changes made by WordPress.com have served to only blur the lines more – but that's still what the core difference between the two comes down to. In the following post, we'll dig deeper into the two options and show you how this core difference actually plays out when it comes to creating a site.
Introducing the Players: WordPress.com vs WordPress.org
Before covering the features, let's quickly introduce the players.

Just to reiterate:
WordPress.org is open source software managed by the non-profit WordPress Foundation.
WordPress.com is a for-profit business owned by Automattic that uses the WordPress.org open source software.
The two are officially separate entities, though the unofficial lines can get blurred because Matt Mullenweg is both the founder of the WordPress Foundation and the founder of Automattic. As a result, the two entities remain closely linked.
Both Platforms Make It Easy to Create a Website
At this point, it's exceptionally easy to create a website with both WordPress.com and WordPress.org. With that being said, it's hard to deny that the process is even easier with WordPress.com. Here's a quick overview of what it takes to get started with each option.
How to Create a Website With WordPress.com
With WordPress.com, creating a new website is literally as simple as creating an account. No need to fool around with hosting or domains: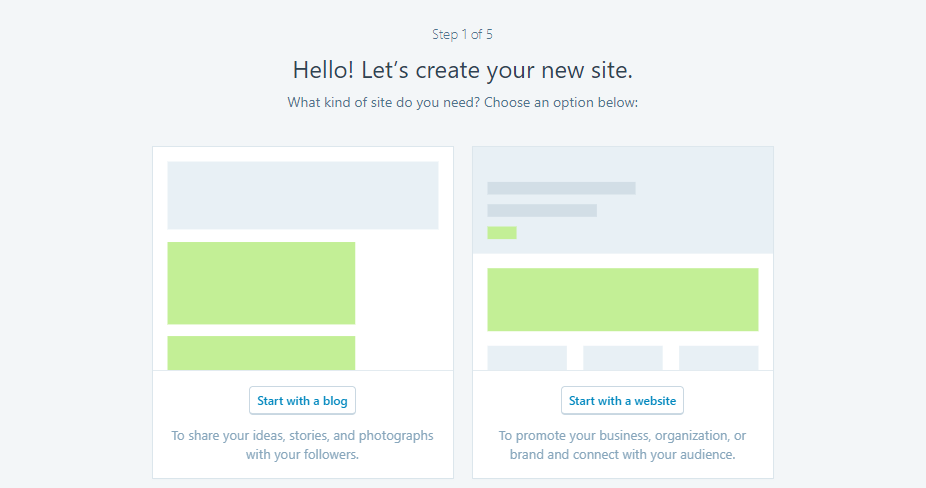 The whole process takes just a couple of minutes and you're off to the races.
How Much Does It Cost to Create a WordPress.com Site?
WordPress.com ranges from 100% free to $24.92 per month.
With the free plan, your website:
Is a subdomain of WordPress.com – like yoursite.wordpress.com
Displays WordPress.com ads
Has limited storage space
If you go with the paid plans, you'll be able to use your own domain name and remove the ads, but you're still limited in what you can do with your site (more on this later).
How to Create a Website With WordPress.org
With WordPress.org, the process isn't quite as simple as just creating an account. But, because of how popular self-hosted WordPress is, the process is still pretty beginner-friendly these days.
Basically, you'll need to get your own:
Subscribe Now
10,000 successful online businessmen like to have our content directly delivered to their inbox. Subscribe to our newsletter!
Archive Calendar
Sat
Sun
Mon
Tue
Wed
Thu
Fri

1

2

3

4

5

6

7

8

9

10

11

12

13

14

15

16

17

18

19

20

21

22

23

24

25

26

27

28

29

30

31