Category : Development
Posted on :

May 15, 2018

Views :

2,031

By :

Odalis J.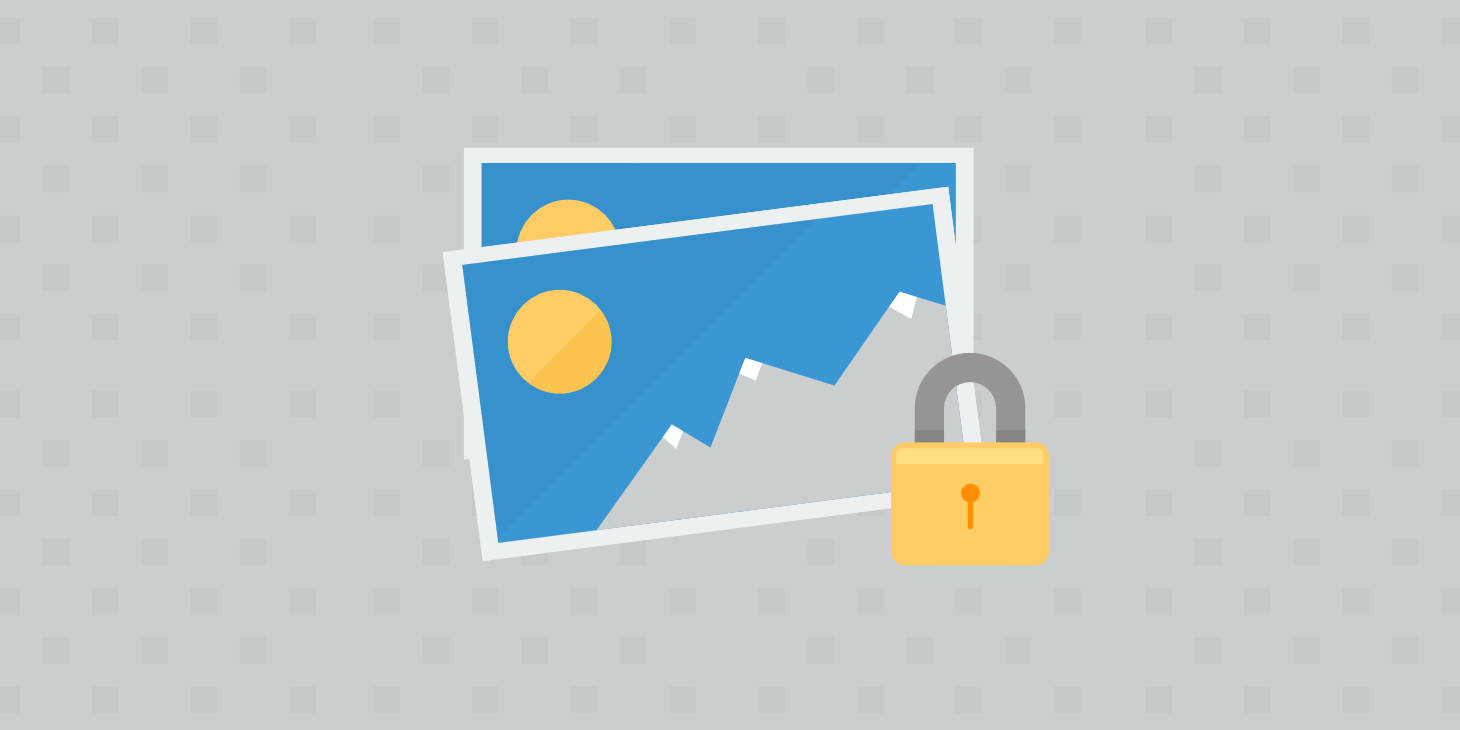 Unfortunately, as the internet grows, image theft becomes more and more common. As a content creator ourselves, we have to deal a lot with this reoccurring issue here at Host SEO. There is nothing worse than seeing all of your hard work simply copiedto another site, intentional or not. It isn't by any means fair to the creator, but there are also instances where we've seen it cause issues in Google image search (which is even a bigger deal). This can be especially bad for certain industries such as photographers, as sometimes images are their primary source of income. Today we're going to dive into a few ways you can protect your images, how to find stolen images, and what to do if they are used without your permission.
Why is image theft bad?
How to find stolen images
How to protect images
What to do about stolen images
Why is Image Theft Bad?
First off, let's cover why image theft is bad. Besides the fact that you're robbing the creator, in a lot of cases, it is also illegal. Let's take Host SEO for example. We actually pay for icons that we use in a lot of our features images on our blog. We are big fans of Iconfinder and it has helped speed up the creation of our graphics. If someone copies and uses our featured image, they are actually breaking the Iconfinder licensing agreement, which reads:
The standard license grants you, the Purchaser, a non-exclusive, non-transferable right to use the Licensed Material Since we paid for the icon, only we have the right to use it. The same goes for a lot of stock photo sites as well. They all operate on the same licensing model. This is why you should never get your images from Google Image Search. A lot of images that were paid for with a license are indexed in Google image search. If you copy one and use it, you are breaking the law. And this can get you into some serious trouble. Getty Images is one stock photo site that has been known to threaten users with lawsuits if they find you're using a photo without permission.
There are plenty of places on the web where you can find royalty-free images for use on your sites and projects. So do it the right way, and avoid all the stress from getting yourself in a sticky situation.
How to Find Stolen Images
Before we go into how to protect images, let's discuss a few different ways you can find stolen images. It's important to remember that not every theft is intentional. Even though it might seem like common sense to some, we have seen a lot of instances where a blogger or content creator might not know they have done anything wrong. Also, a large majority of sites hire 3rd party writers and simply approve/publish posts as they are ready. A lot of times the publisher doesn't check the images but relies on the writer to source them.
1. Stumble Across It
One of the first ways to find stolen images is to simply stumble across it. This might sound odd but actually, it happens quite a bit to us here at Host SEO. Sometimes it is in Google Image search, a newsletter, Tweet, or we just stumble across an article while doing research. The more content and images you publish increase the odds of this happening more often. We won't name any names, but we have seen our featured images and screenshots on many high-authority sites across the web. We'll share with you more below on what we do about it.
2. Reverse Image Search
One easy way to find people who have copied your images is to utilize a tool which does a reverse image search. TinEye has a great tool which allows you to search by image and find where that image appears online.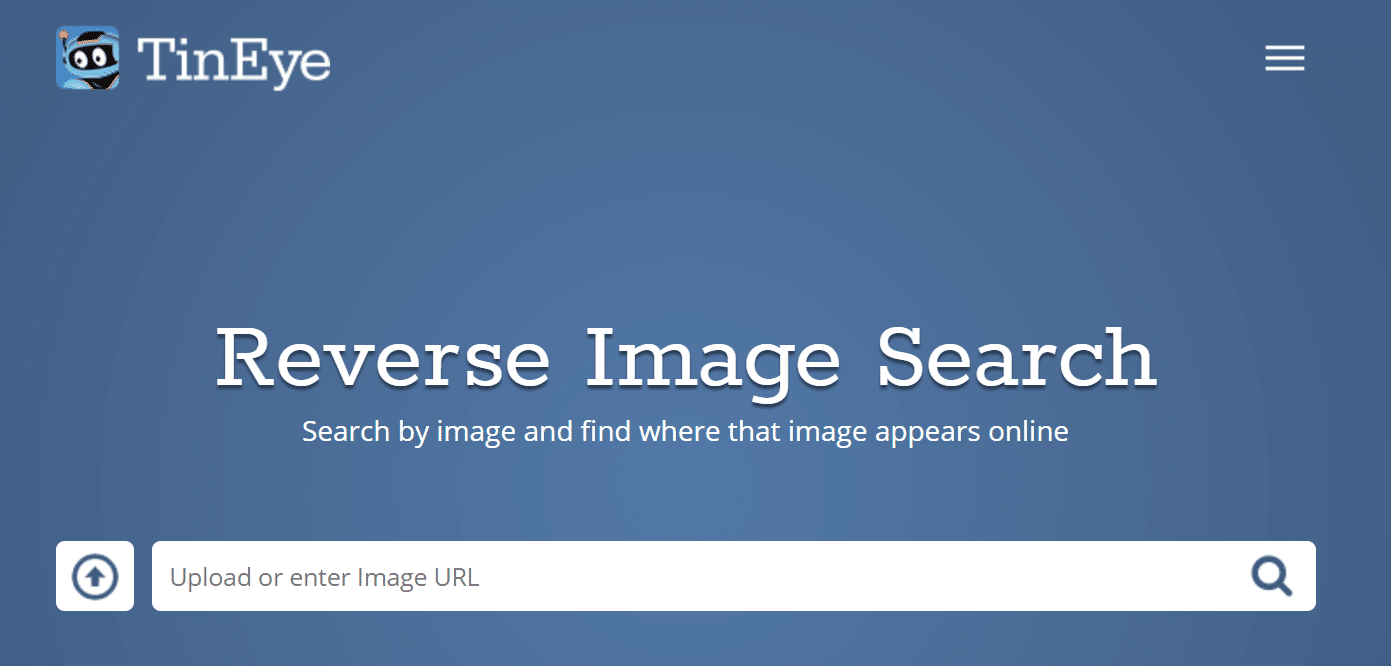 We gave their tool a quick test by inputting an image from one of our more popular blog posts. On our very first search, we found a third-party site (which will remain nameless) which has been copying all of our articles, including all of our images! Pretty quick and easy. Of course, it won't always find everything, but it can be a good place to start. Note: TinEye is only meant to be free for personal use, not commercial.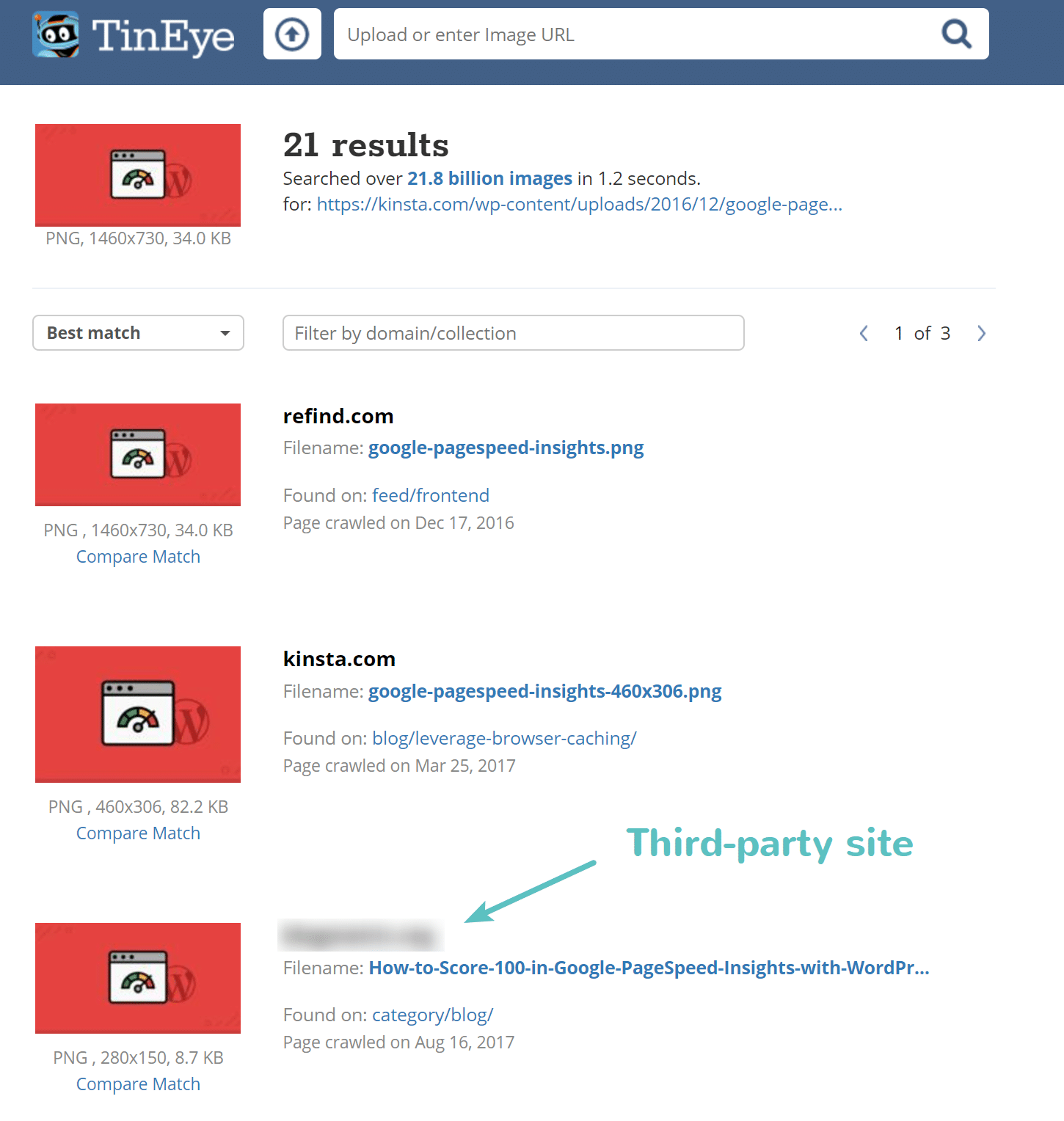 You can also do a Google Image search and enter in the filename. Sometimes if sites copy the image, they don't bother renaming it, and you can easily find it this way. As you can see below in our example, it returned a third-party site using our SEO Checklist featured image. However, in this case, it was OK since it is a social sharing site linking back to our article.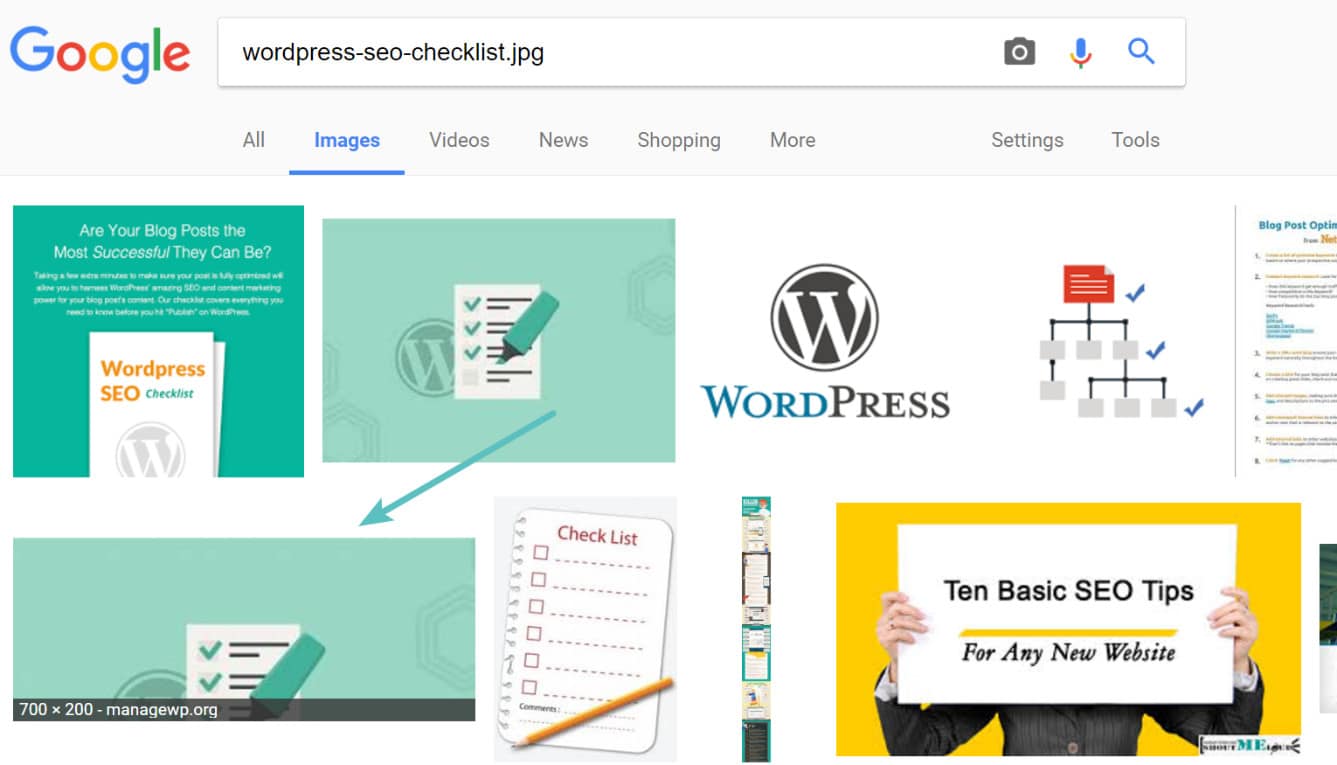 You can also upload an image by clicking the small camera icon. It will then do a search to try and find similar images.

3. Utilize a Backlink Monitoring Tool
The number one way we spot copied or stolen images is to utilize a backlink monitoring tool. We love Ahrefs here at Host SEO, which is an SEO tool (see more here: Best SEO Plugins for WordPress And Must-Have SEO Tools) that you can use to do keyword research, perform a competitor analysis, monitor backlinks and much more. It has one of the largest databases on the web and we rely on its data for a lot of things.
More often than not sites will leave a link in place on the image or link directly to it. This is what is called hotlinking, of which we'll go into more below. But as you can see below in this example we found a spammy domain which was compiling all sorts of PDF files and then copying our images into them. This was most likely being done by a scraping tool.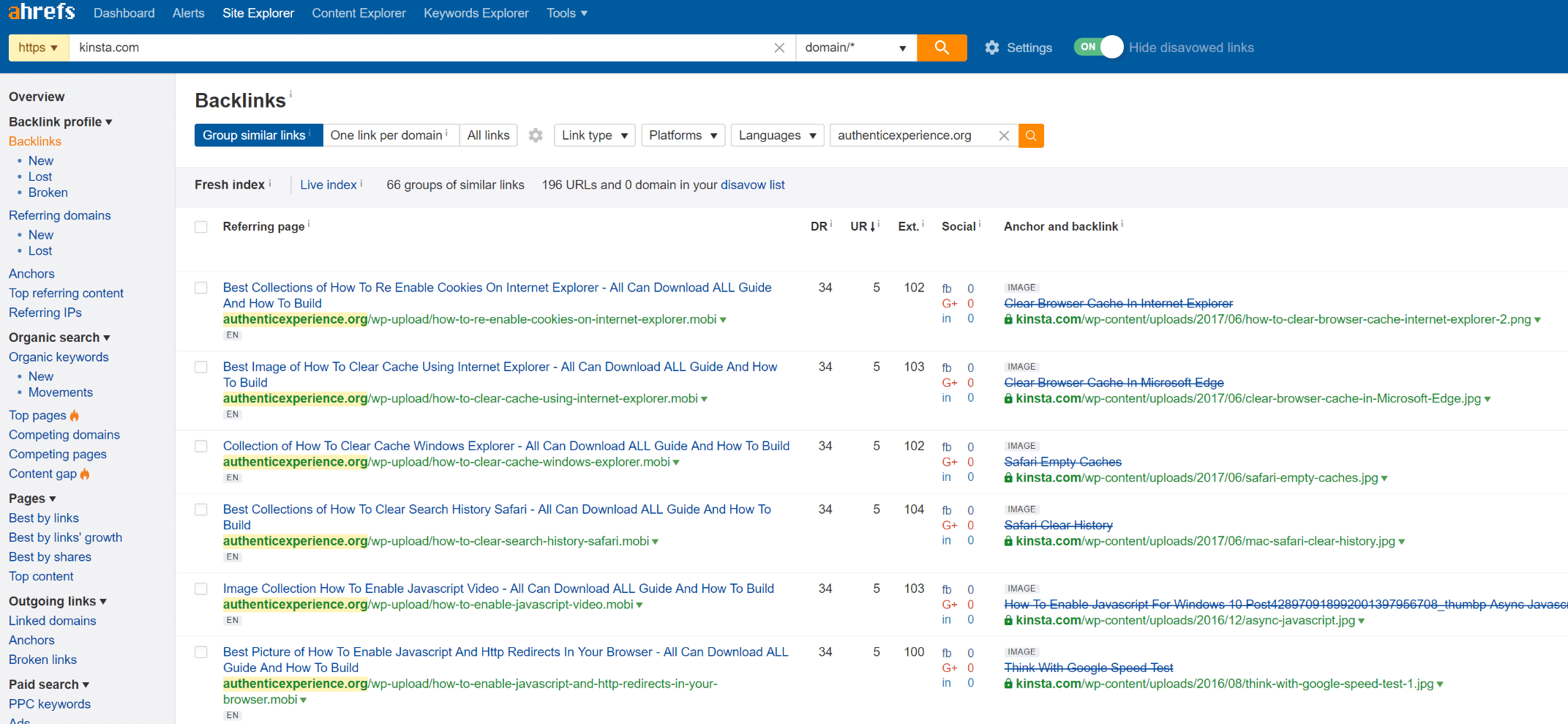 This can sometimes negatively harm your SEO. Read more about negative SEO and how to disavow these types of links. Which is what we ended up doing with in the case above.
How to Protect Images
Now it's time to explore how to protect images on your WordPress site. Implementing some or all of these suggestions can help prevent theft and copying.
Enable Hotlink protection
The first thing we recommend is to enable hotlink protection. The concept of hotlinking is very simple. You find an image on the internet somewhere and use the URL of the image directly on your site. This image will be displayed on your website but it will be served from the original location. This is very convenient for the hotlinker but it's actually theft as it is using the hotlinked site's resources. It's like if we were to get in our car and drive away with gas we siphoned off from our neighbor's car.
Hotlinking is bad for the following reasons:
Hotlinking costs the original website owner money
Hotlinking in most cases is illegal
Hotlinking drains the original website owner's server resources
Hotlinking is just plain lazy
Check out our in-depth post on how to enable hotlink protection.
Disable Right-Click on Images
Another tactic you can use is to disable right-click on your images. A lot of users simply right click on an image they like, save it to their desktop, and upload it to their WordPress site. There is a great free little plugin called Prevent Content Theft which will help stop that. It currently has 4,000+ active installs with a 4.5 out of 5-star rating. You can download it from the WordPress repository or by searching for it within your WordPress dashboard under "Add New" plugins.  There are no settings, simply install and you're good to go.

This plugin not only disables right clicking on your images but also the entire page, therefore protecting your content as well. This will by no means stops everything, especially for those who are a little more tech savvy. But we have found that a majority of the users that copy images are those that don't know any better. We installed and tested this on our development site and you can see an example below of what happens when a user tries to right click on an image. They are met with a notification box that lets them know that this function is disabled.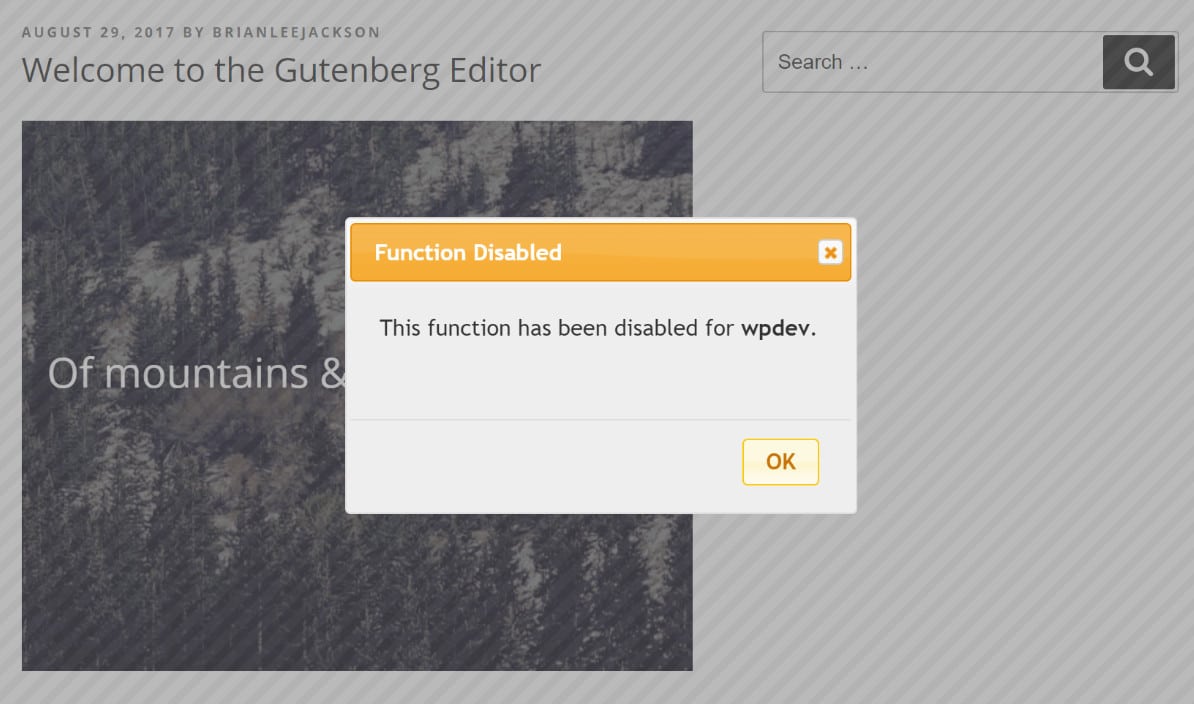 Or you could also go with this other approach in the new free Shrinkwrap imagesplugin. Instead of doing anything with prompts, it simply adds a tiny, invisible image on top of all of the images on your site. If a visitor right-clicks on one of your images, they download the clear tiny image instead of your original image.

Watermark Images
Another approach you could take is to watermark your images. This is especially important for photographers. By adding your logo or a mark on top of your images this could deter people from wanting to copy them. And if they do, it's free publicity for you! Watermarking could be great for when people share your images on social media as well.
The free Image Watermark plugin allows you to automatically watermark images uploaded to the WordPress media library and bulk watermark previously uploaded images. It currently has 30,000+ active installs with a 4 out of 5-star rating. You can download it from the WordPress repository or by searching for it within your WordPress dashboard under "Add New" plugins.

After installing it you can enable watermarking in the plugin's settings (see an example of our settings below). You can choose where you want the watermark to appear, upload your watermark image, set the scale, set the transparency, and even backup the original image. This plugin also has basic image protection to disable right click. If you wanted to both disable right click and implement watermarks this plugin could be a great combo.

Here is an example below on our development site with an image and our Host SEO logo as the watermark. This was automatically applied to the image when we uploaded it to the media library. How cool is that?
Add DMCA Badge
The DMCA (Digital Millennium Copyright Act) is a United States copyright law focused on digital mediums that help content owners get their stolen content (which includes images) removed in a fast and efficient manner. This extends to places such as Internet Service Providers (ISP), web hosting providers, and search engines. A DMCA takedown notice applies to where the content is physically hosted. So people outside the US can still file DMCA complaints.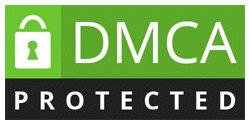 You can add a DMCA badge to your WordPress site for free, although they do offer premium services too. Think of it like like putting up security cameras around your house that aren't enabled. People might think twice before trying to copy your content and images. There is also a DMCA WordPress plugin.
Add Copyright Notice
And finally, it's always good to have a copyright notice on your WordPress site. This technically isn't required as everything you publish is automatically copyrighted and owned by you, however, it is recommended. Typically copyright notices are placed in the footer of a site. You can see an example of ours below.
To add a copyright notice to your site we recommend first checking your WordPress theme's documentation. Most of them should have an easy way to change the copyright information. If they don't, you could always place the following into a footer widget.
<

p

>

Copyright 

&copy;

 2017 Site Title

</

p

>
You could also add a dynamic copyright notice to the footer of your WordPress site by adding the following code to your theme's footer.php file.
Copyright ©


<?php $the_year = date("Y"); echo $the_year; ?>




<?php bloginfo('name'); ?>


All Rights Reserved.
What To Do About Stolen Images
Now that you know a little more now about how to protect images on your site let's explore your options for what to do after the fact. And trust us, this will happen to you at some point. Below is the approach we use here at Host SEO which works quite well.
1. Analyze Copied Image First
The first thing we recommend doing when you find someone that has stolen or copied your images is to first check to ensure they are hosting it on their server. This ensures they aren't hotlinking and using up your server's bandwidth. In Chrome you can right click on an image, click on "Inspect," and it will highlight the URL it is being hosted on.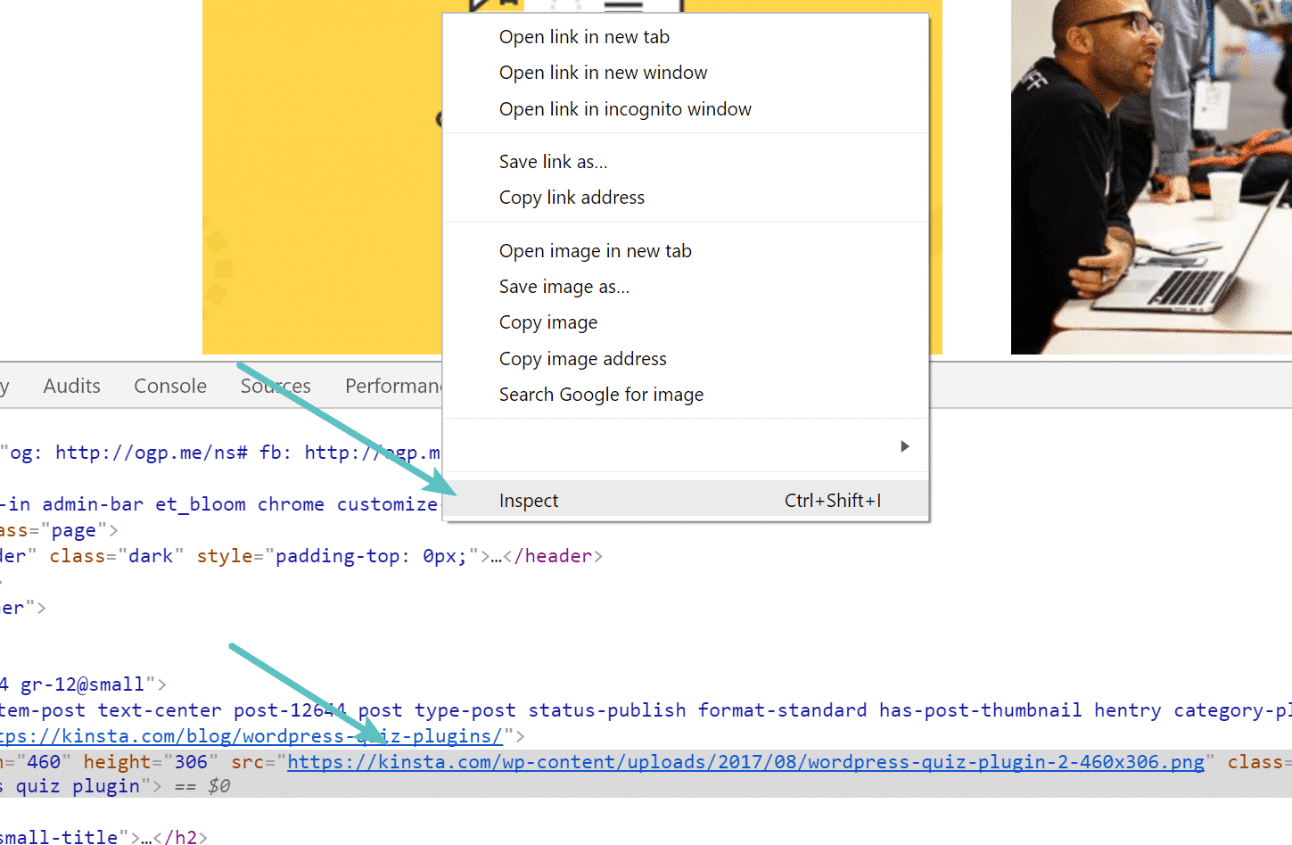 If it is loading from their server, then look to see if they gave you a backlink (referenced you as a source). If they did, then you might actually want to leave it. If they didn't reference you, send them an email asking them to, as this can be a good way to obtain a free backlink, which can be great for SEO purposes. Below is an example template:
Hello,

I work for _____ and we noticed you used one of our images in your article here: [link to their post]
You can see that we are the owner of the image here: [link to your original post]

We are OK with you using our image as long as you reference us. Please add a link to [term/phrase] in your article to [link on your site].

If you don't want to add a link we totally understand, but we'll need to ask that you remove the image as this is something created by us.
Thank you, if you have any questions please feel free to ask.

Name
[link to your site]
Remember though that this would only apply to images that you created, not images you licensed. Licenses images would still need to be taken down as they don't have permission to use it.
2. Send Polite Takedown Email
If the image is licensed or you didn't want a backlink and simply want them to remove it, we recommend then simply sending a polite takedown email first. Create a task and then check back in a couple days or weeks. Note: In our experience, this polite email usually resolves 90% of the cases.
Hello,

I work for _____ and we noticed you used one of our images in your article here: [link to their post]
You can see that we are the owner of the image here: [link to your original post]

We would kindly ask that you remove and or replace this image.
Thank you, if you have any questions please feel free to ask.

Name
[link to your site]
3. Send More Aggressive Takedown Email
If you don't hear back from the website owner after the first attempt, then you could send a slightly more aggressive takedown email. In our experience, this usually resolves the remaining 10% of those you don't hear from.
Hello,

I work for _____ and haven't heard back from you regarding my first email.

We noticed you used one of our images in your article here: [link to their post]
You can see that we are the owner of the image here: [link to your original post]

We would kindly ask that you remove and or replace this image. If we don't hear back from you within the next two weeks we will have to file a DMCA complaint.

Name
[link to your site]
4. File a DMCA Takedown Notice
And finally, if it comes to it, you can file a DMCA takedown notice. This can be a quick way to ensure that it gets taken down. Also, we have a related article on the topic: WordPress Content Scraping (Fight Back or Ignore?) (Compared With Examples)
Summary
It is important to protect images on your site as a content creator. If you put in the hard work to create it, or paid for it, there is no reason a third-party should be using it. In fact, in most cases it is illegal. Hopefully, now you understand a few ways to prevent this from happening, and what to do when it does.
Subscribe Now
10,000 successful online businessmen like to have our content directly delivered to their inbox. Subscribe to our newsletter!
Archive Calendar
Sat
Sun
Mon
Tue
Wed
Thu
Fri

1

2

3

4

5

6

7

8

9

10

11

12

13

14

15

16

17

18

19

20

21

22

23

24

25

26

27

28