Category : WordPress
Posted on :

Aug 25, 2018

Views :

1,785

By :

Radcliff S.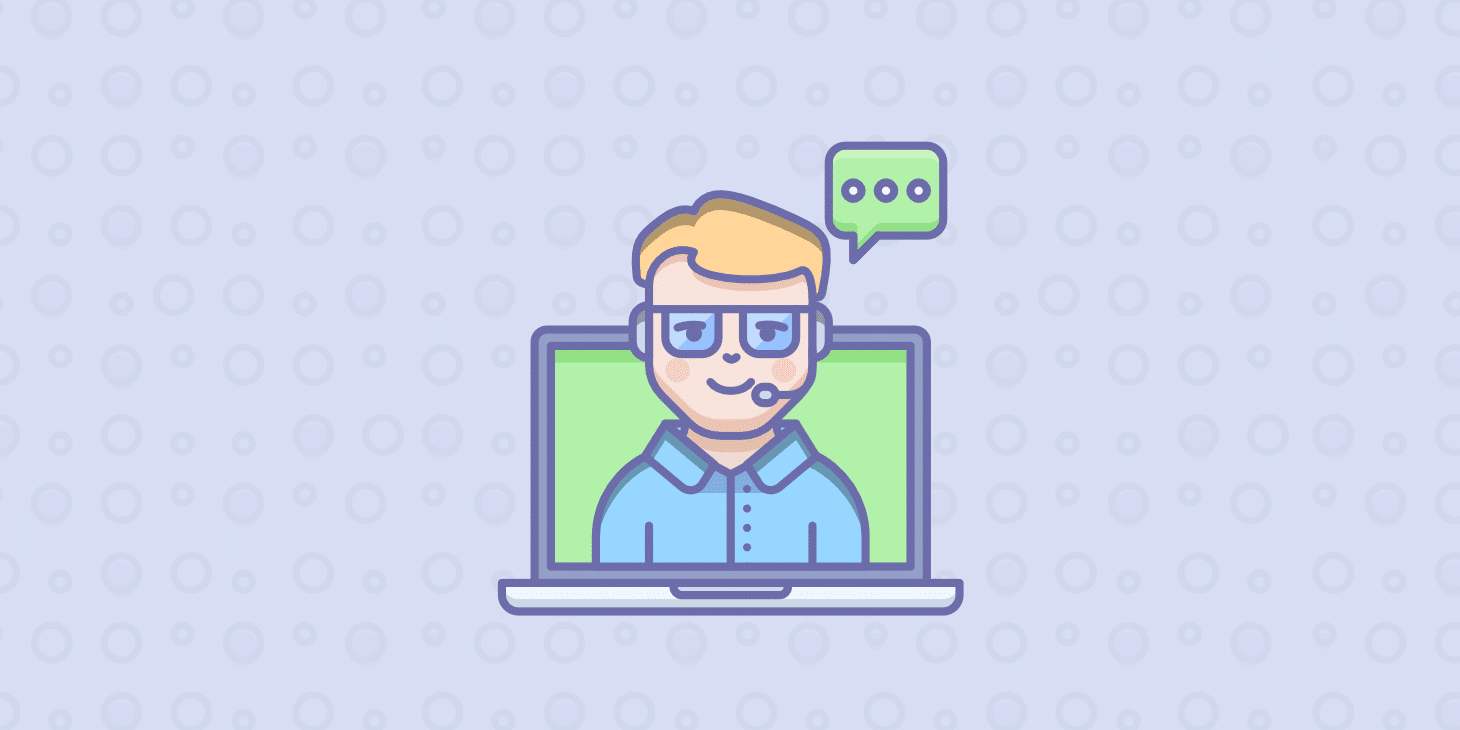 Think of the last time you called a customer support line. Let me guess, one of the following occurred:
You were placed on hold for a while.
The person sounded like they were reading from a script.
The rep was hard to understand because of background noise, a bad connection or a language barrier.
You ended up on the phone for a long time.
Phone support personalizes the customer assistance experience, but it's tough to implement and pricey to get good people on a support team. The big companies simply outsource, making a terrible experience for all customers. Small businesses are typically better with phone support, but once again, it's difficult for companies to maintain such a high measure of success.
One way to satisfy a large chunk of your customers, while also decreasing the number of phone calls, is by finding a WordPress live chat plugin. Then, install it on your site to provide quick online chats for your customers. Drift was able to increase their inbound leads by 200% simply by putting live chat on their website.
Benefits of Having a WordPress Live Chat Plugin
Besides the fact that the majority of WordPress live chat plugins are free, you have several other reasons to install one:
Options – Customers want options. If they pay for a product or service, people assume that part of that payment goes to your customer service department. If you only have a forum or email support module, that's not giving your users many choices. Some folks like to talk on the phone, while others would rather bring up a live chat module. There are also people who love email support or researching through forums and blog posts. Give every type of preference to your customers, then you'll make everyone happy.
Instant service – A big problem with online commerce is that consumers can't walk five steps to tap a salesperson on the shoulder. Your site users are generally left to fend for themselves or scour the internet for answers to their questions. A live chat box serves as your instant form of customer communication. It's for those quick questions right before a sale. It's for following up with customers immediately after a sale. You'll have trouble converting and keeping customers if you expect people to wait for an email or through a phone queue.
Quality branding – The next time someone thinks about buying a piece of clothing they'll wonder about the best place to purchase from. They may have several companies in mind, but yours comes to the forefront because the customer had a great experience with a live chat rep.
Log feedback and customer interactions – Some of the WordPress live chat plugins allow you to log what customers have done on your site and what was said to the customer rep. This helps with target marketing in the future. Furthermore, the customer interactions can usually be logged in customer relationship management tools like Salesforce and ZenDesk.
Professionalism – Having a live chat module on your website makes it look like you have your act together. You've clearly studied what customers want and realize that your industry is filled with people interested in live chat. Some of the most forward-thinking companies in the world have live chat, while the ones who forget it are often newer, unorganized companies.
The Best WordPress Live Chat Plugins in 2019
In this WordPress live chat plugin roundup, we'll uncover the pros and cons of each solution. Then, we'll explore things like pricing, feature-sets and which types of companies should consider each plugin.
If you want a quick reference to our recommendations, here's a list to get you started:
Tawk.To Live Chat
WP Live Chat Support
Live Chat by Formilla
HubSpot All-In-One Marketing
Facebook Messenger Live Chat
Tidio Live Chat
Chat by Flyzoo
Chat – Live Chat, Support, Sales
YITH Live Chat
Zendesk Chat
Userlike
Drift
Intercom Live Chat
LiveChat
1. Tawk.To Live Chat
Tawk.To Live Chat is not only a highly-rated chat plugin, but it looks so darn sleek once you install it on your website. The first benefit you'll notice is how the plugin is completely free. There aren't any ads or spam elements that make the live chat box less pleasant to work with. Real-time monitoring is available for checking in on your customers, and the actual live chat module is fully customizable.

The customer support team also sticks around at all times for you to interact with them. The support is only through live chat and email, but they respond quickly.
Go With This WordPress Live Chat Plugin If You…
Like a highly-customizable chat module with tools for adjusting items like colors, sizes, fonts, languages, and positions.
Require support for an unlimited number of agents.
Want a widget scheduler for setting exactly when the live chat widget appears.
Need a WordPress live chat plugin that does not, and will never, cost a dime.
Would like a chat plugin with ticketing built-in.
Interested in canned shortcut messages.
Skip This WordPress Live Chat Plugin If You…
Are not interested in signing up for a Tawk account. Although it seems like a great development team, you're pretty much trading your information for the free plugin.
Want more premium support options.
Need additional customization tools. Tawk has several, but some competitors deliver advanced branding tools.
2. WP Live Chat Support
The WP Live Chat Support plugin delivers an outstanding combination of features, with support for dozens of languages, a beautiful chat box and the freedom to chat with your customers without having to pay anything. The plugin has a unique feature that lets you know anytime you've missed a chat. This serves as quality control and a way to potentially follow up with customers. There's also a default value that uses cookies to stop the chat from appearing for 24 hours if the user hits the "X" button.

Although the free version includes features like unlimited simultaneous live chats, multiple chat box themes, offline messages and the option for users to drag the chat box around their own page, there's also a paid add-on for additional functionality. With the premium version, you'll get unlimited live chat agents, the ability to initiate the chats with your online visitors, ROI tracking and more.
Go With This WordPress Live Chat Plugin If You…
Would like a cost-effective way to run a live chat on your website. Even the premium add-on is affordable.
Have an interest in adding effects and animations to your chat box.
Like to integrate your live chat with translation and analytics tools.
Need a way to add surveys, quizzes or polls before or after your live chat.
Want a live WordPress live chat plugin without any branding from the developer.
Skip This WordPress Live Chat Plugin If You…
Would rather not pay to get support for unlimited agents. Many other plugins offer this for free.
Rely on prompt responses to support tickets. Many users have complained about troublesome support.
3. Live Chat by Formilla – Real-time Chat Plugin
Live Chat by Formilla has professional-looking chat boxes, making it ideal for more serious companies like law or engineering firms. This is one of the best chat plugins if you're looking for great support. It's more of a premium plugin than anything, but it does provide a free plan for one customer support agent. That also only includes one concurrent chat, making the free plan somewhat useless for the average business.

The premium plans charge on a recurring basis, so you'll have to start by paying at least $11.99 per month, and that's only for one agent. Every agent after that gets a discount. Although the pricing isn't ideal, Formilla backs it up with real-time visitor monitoring, mobile apps for you to chat with customers on the go, custom languages, custom appearance, support for WordPress multisite and more.
Go With This WordPress Live Chat Plugin If You…
Are willing to pay a monthly fee for tons of features.
Have a need for mobile app support.
Looking for real-time visitor monitoring.
Want to integrate with tools like MailChimp, Pipedrive or Zendesk.
Need canned messages to speed up the communication process.
Need an SSL with your live chat module. This is ideal for securing an online store.
Skip This WordPress Live Chat Plugin If You…
Want a free live chat plugin. The free version isn't worth your time, so it's almost required to pay.
Would like a more creative design. It's somewhat boring, but this could work for more traditional businesses.
4. HubSpot All-In-One Marketing
HubSpot's All-In-One Marketing plugin offers many marketing tools for your website, including live chat.
HubSpot Live Chat lets you set up targeted messages for different pages or segments of your audience. If no one can respond immediately, you can enable an email capture form so your visitors can still get in touch. You can also set up a chatbot to personalize your conversations at scale.

Because it's built on top of the free HubSpot CRM, you'll know exactly who you're chatting with and what pages they viewed on your website, be it a prospect, long time customer, or new contact. This makes for an excellent customer experience. You can take notes, send emails, make calls, schedule follow-up tasks, and create support tickets in one place, making following up an absolute breeze for your team
Live Chat is included with the free HubSpot CRM. However, you can upgrade to a paid account to get access to more advanced functionalities such as if/then workflows and transferring chats to different team members.
Go With This WordPress Live Chat Plugin If You…
Want a free live chat plugin.
Want to sync and integrate all your conversations in a CRM.
Are looking for an integrated marketing solution.
Need to use chatbots.
Skip This WordPress Live Chat Plugin If You…
Don't want to sign up for a HubSpot account.
Want to manage your chats directly from your WordPress dashboard.
5. Facebook Messenger Live Chat
If you're trying to find a social alternative to regular live chatting, the Facebook Messenger Live Chat plugin should serve you rather well. Facebook is breaking into the customer service game by offering companies a way to connect with customers in the social environment. Since consumers spend more time on social media than on shopping sites, it makes sense to connect with them through Facebook.
Facebook Messenger is available to everyone with a Facebook page or personal account. Yet, this plugin integrates it into your WordPress site so you can manage everything from one dashboard. The plugin is free, but you are limited to whatever features Facebook gives you. That said, Facebook Messenger Live Chat has social buttons, a promo bar, social mobile tools, a notification box and more.
There's a premium version if you'd like to upgrade. It starts at $9.99 per month. Just keep in mind that the free version doesn't provide email capture popups, multisite support, banners or stickers. Lots of these features aren't needed most of the time, but the Zotabox branding in the free version might annoy some people.
Go With This WordPress Live Chat Plugin If You…
Need an advanced live chat plugin for free.
Are willing to pay a little extra to remove branding and get better customization tools.
Want a social-oriented chat box, with social buttons, social mobile tools, and communications through Facebook.
Skip This WordPress Live Chat Plugin If You…
You don't want to pay just to remove branding.
You'd rather have more freedom with how your chat box works. Facebook chat is powerful but limited to what Facebook develops.
6. Tidio Live Chat
Tidio Live Chat is another popular WordPress live chat plugin, and it provides dedicated apps for iOS, Android, Windows, OS X and Chrome. Tidio has several free features that you can't find in other live chat tools. For example, Tidio allows you to contact your customers first, while other plugins often make you pay for that. So, with Tidio, you're not stuck waiting for the customers to send you messages.
That said, Tidio also has a premium version starting at $15 per month. The free plugin version is free for a lifetime, and it supports up to three users with live chat, email integration, Messenger integration, apps, unlimited tracking and more. That's a pretty good deal, especially for small businesses.
Go With This WordPress Live Chat Plugin If You…
Run a small business with three or less customer support reps.
Aren't opposed to paying a monthly fee for additional reps.
Want unique features like a business hours display or live typing.
Run an eCommerce store with a need for abandoned cart recovery or a loyalty program, both of which integrate into Tidio.
Skip This WordPress Live Chat Plugin If You…
Can't imagine spending $15 per month for premium features.
You have more than three customer support agents but don't want to pay any money.
7. Chat by Flyzoo
Chat by Flyzoo takes a different approach to online chatting. It's not for companies trying to communicate with customers. Instead, the plugin serves as more of a chat room for visitors.

Initiate group chats on forums, connect with private (one on one) chats and moderate chats to ensure that everything is cordial. Obviously, not all companies want a chat plugin like this, but it's ideal for forums or communities where people expect an outlet to discuss topics with other users. A membership site would also benefit greatly from Flyzoo.
Keep in mind, none of the plans from Flyzoo are free. You need to sign up for a premium package, starting at $9.90 per month.
Go With This WordPress Live Chat Plugin If You…
Need a way for users to chat with other users.
Need both private and group chat options.
Want a WordPress live chat plugin with file sharing tools.
Want a way to control role access.
Would like access to the API.
Skip This WordPress Live Chat Plugin If You…
Don't want to pay any money.
Are more interested in a one on one customer support live chat module. This plugin is more useful for group chats.
8. Chat – Live Chat, Support, Sales
The Chat – Live Chat, Support, Sales plugin has a bland name, but its support for unlimited websites, chats and operators is enough reason to give it a look. The plugin also comes with a mobile app for chatting with customers when not at the office.

There's no fee to gain access to all of the features, and the plugin is compatible with Woocommerce. Therefore, it's not a bad choice if you're running an online store. The geolocation tools show you customers on the map, while the offline chat messages are sent to your email for later responding.
Go With This WordPress Live Chat Plugin If You…
Like the idea of a completely free WordPress live chat plugin.
Want the ability to display avatars for your customer support reps.
Would like to address customers by their names.
Want unlimited everything, from chats to agents.
Run an online store with WooCommerce.
Skip This WordPress Live Chat Plugin If You…
Don't have the patience for a cluttered admin area.
Would rather find a more guaranteed form of premium support. The developers help out, but it's nothing like you would get with a premium plugin.
9. YITH Live Chat
The YITH Live Chat plugin is lesser known than some of the other WordPress live chat plugins, but it certainly has its place in the market. The main reason I like it so much is that it's super basic.

The plugin documentation is rather extensive, yet the majority of people will be able to figure it out themselves. YITH Live Chat is a free, open source option, but a premium version is sold as well.
Go With This WordPress Live Chat Plugin If You…
Need a clean, simple and intuitive interface. It's great for beginners.
Need to save the messages from your conversations.
Want to manage multiple conversations from one agent dashboard.
Would like to provide a mobile chat service.
Skip This WordPress Live Chat Plugin If You…
Would like a more advanced live chat module.
Need powerful customization tools for your chat box.
Want more language support than just English.
10. Zendesk Chat
More often than not you'll want to integrate with your customer relationship management (CRM) software. This way, you can keep track of the conversations with customers and try to make some conversions down the road. That's why Zendesk Chat is such an appealing live chat option.

Additional Live Chat Solutions
Obviously, we can't check out or review every live chat plugin or solution on the market. Here are a few additional ones you might also want to check out:
Choosing Your WordPress Live Chat Plugin
Wow, that's a lot of information on WordPress live chat plugins! How do you go about sifting through these solutions to make the right decision? Well, here are some final thoughts to help you out:
For the best value – Go with Tawk.To Live Chat or WP Live Chat Support.
For beginners – Go with YITH Live Chat.
For more professional businesses – Go with Live Chat by Formilla, LiveChat, or a higher premium solution such as Intercom or Drift.
For CRM users – Hubspot's All-In-One Marketing plugin can be great if you're already using HubSpot.
For group chats – Go with Chat by Flyzoo.
For a social chat solution – Go with Facebook Messenger Live Chat.
For the best customization – Go with Drift or Facebook Messenger Live Chat.
Subscribe Now
10,000 successful online businessmen like to have our content directly delivered to their inbox. Subscribe to our newsletter!
Archive Calendar
Sat
Sun
Mon
Tue
Wed
Thu
Fri

1

2

3

4

5

6

7

8

9

10

11

12

13

14

15

16

17

18

19

20

21

22

23

24

25

26

27

28

29

30

31