Category : SEO
Posted on :

Sep 18, 2016

Views :

703

By :

Naftali P.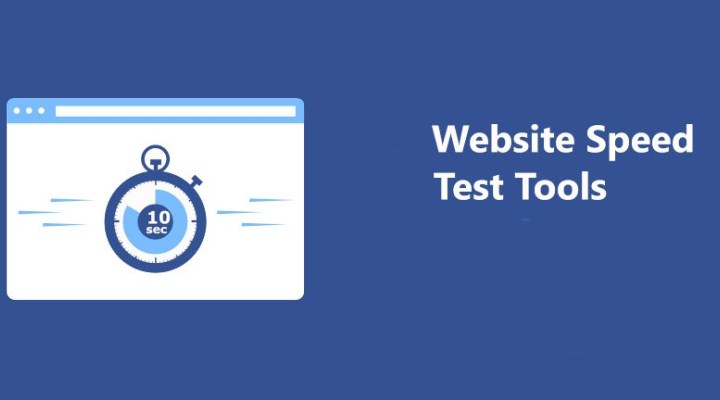 Did you know how high the expectations are when it comes to loading speed of a typical webpage? With passing years and staggering improvement in web-based technology, the average browser is accustomed to speedily loading pages and apps. If your website is lagging even a second behind the ideal loading Speed time, you risk losing the interest of your potential customers.If you are not convinced that page loading speed is important for your website's optimized online performance, take a look at some of these eye-opening statistics below:
51 percent of online shoppers in the U.S say that if a site is slow they abandon the purchase.
The demand for loading speed increases with time. For example, a page that took six seconds to load in 2010 suffered a -40 percent conversion hit, while the same loading Speed time in 2014 results in a -50 percent conversion hit. 
47 percent of web users expect your website to load under two seconds. 
When traffic was at the peak, 75 percent consumers would jump to competitor sites instead of bearing with a slow loading Speed page. (same source as above)
Heck even Google seems to like page loading speed so much that they have added it as one of their many ranking signals. Back in 2010, they made an announcement that your site speed would affect your search rankings and its importance grows with the time.So, if you regard usability and SEO highly for your website's online success, you must pay attention to your website's loading speed .Today, I am going to list out useful website loading Speed time measurement apps that will help you detect the page loading times of your website. One of our popular blog posts from the past lists 20 Quick Tips To Optimize Page Load Time. You can test your site's speed using these apps and then apply these tips to your site for an optimized web performance of your site's pages. Even better, all these speed testing tools are FREE.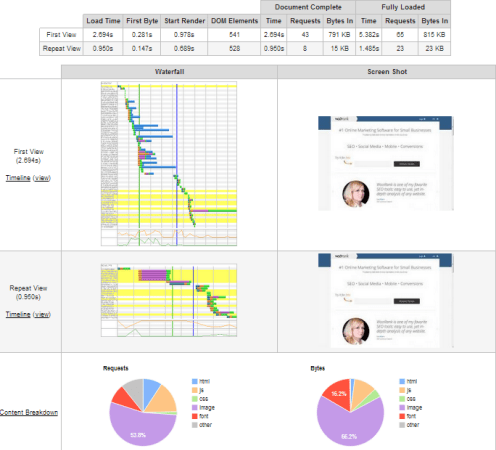 You get step by step information of the time taken to start to render the loading of your webpage till the time it is fully loaded. You can even view the screenshots of loading stages on your website, under the option screenshot in the main menu.
You get a waterfall chart of the content breakdown of your website load. These different content elements are represented by different colors. They are html, js, css, image, flash, font and others.
You get a page speed score out of 100 and page speed optimization tips below it. Take a look at the sample screenshot below: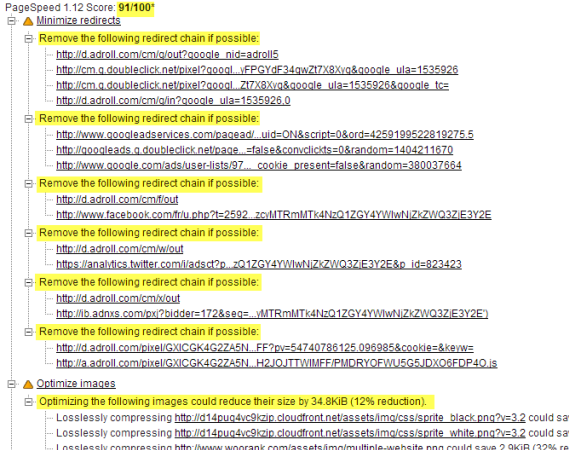 You also get a complete optimization checklist, under the Performance Review menu along with some more tips to optimize your page speed.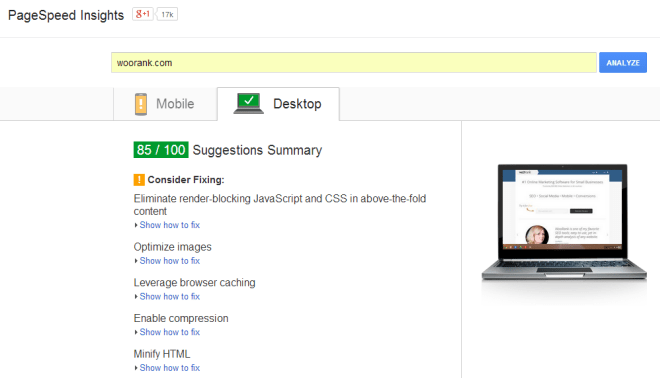 Google's Pagespeed Insights tool offers page speed analysis of both desktop and mobile versions of your site.
You get a page speed score out of 100.
If there are elements on your page that you need to consider fixing in order to optimize your site's speed, the tool lists all those, along with a link that shows you how to fix them.
The report also tells you what you have done right on your website that helps optimize its loading time.
It gives you a score for your site's loading time on a mobile as well as for the user experience. The mobile page loading time score is followed by useful tips that will help improve your mobile site's loading time.
You can also install Chrome and Firefox extensions of this app to your browser.
You can avail (an invite-only) page speed service from Google. Click here to access the form to receive an invitation.
3. Yslow (By Yahoo)

This is a add-on app for browsers.
It grades websites out of 100 based on overall performance based on one of the three predefined rules set.
Summarizes the page's components
Offers tips for optimizing page loading times.
Also, provides tools to optimize web page performance, wherever applicable.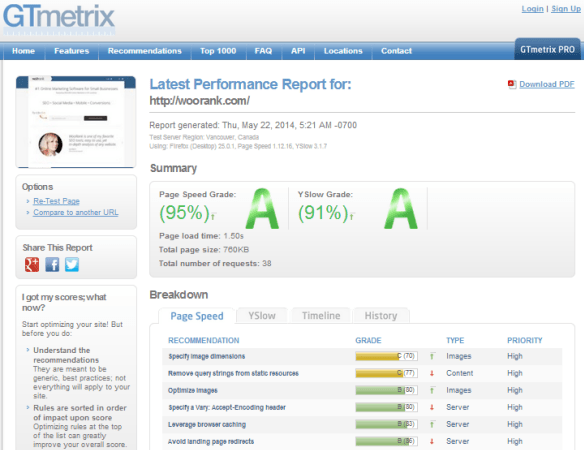 It gives your webpage a GTMetrix page speed grade along with a Yslow grade.
You can download a PDF version of the report.
Gives you charted history of page load times, page sizes and request counts and page speed and Yslow scores, as shown in the screenshot below: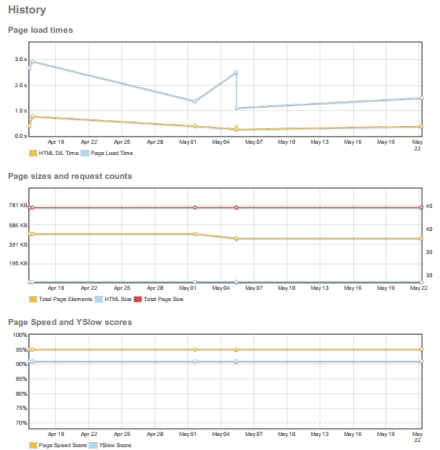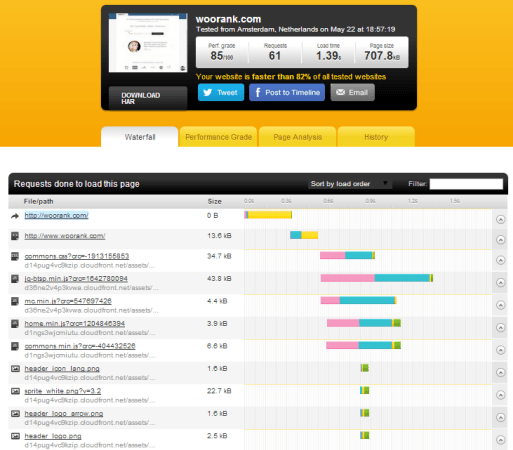 It gives you website performance grade (out of 100), number of requests, load time, page size and out of what percentage of tested websites is your website faster.
It gives you a waterfall chart of your website's performance with different colors that indicate the different stages of a request (DNS, SSL, Connect, Send, Wait,  Receive), different icons for various content types (HTML, Javascript, CSS, Image, Text/Plain, Redirect, Warning and others).
See how your website scores against various performance parameters from Google Page Speed and Yahoo's Yslow., under the Performance Grade tab.
You can track your performance history, test from multiple locations and share your results.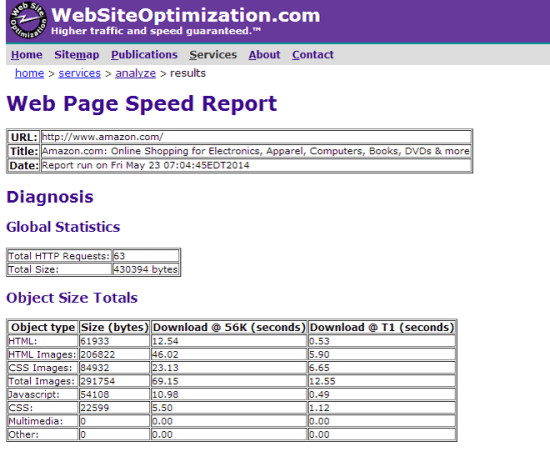 Get page size, composition and download time of your website.
It sums up a list of page components with relevant comments against each.
The report also gives recommendations for your site to optimize your site's speed.
7. Page Speed Tool (By Internet Marketing Ninjas)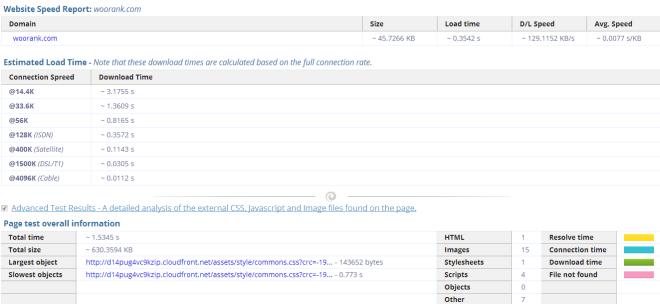 Get an extensive page load analysis that includes page size, load time, download speed and average speed.
The tool gives you estimated load time of your site for various connection speed.
Along with a waterfall chart, you get a detailed analysis of the external CSS, Javascript and image files found on the page.
What is unique about the tool is that when you roll over your mouse on the breakdown of links you see a quick snapshot of the image file, as shown in the screenshot below: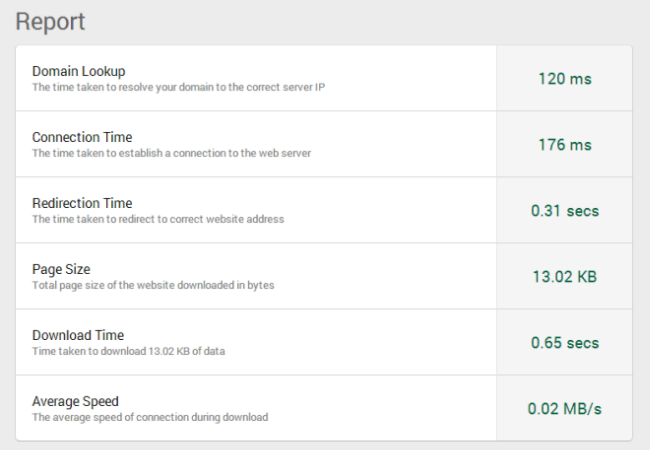 It is a pretty simple tool that gives data time taken to resolve your domain to connect to server IP, time taken to connect to web server, redirection time, page size, download time and average speed of connection during download.
It also shows you sectioned view of how long different files on your website take to load.
The tool is pretty basic and it gives lesser information compared to the tools listed above.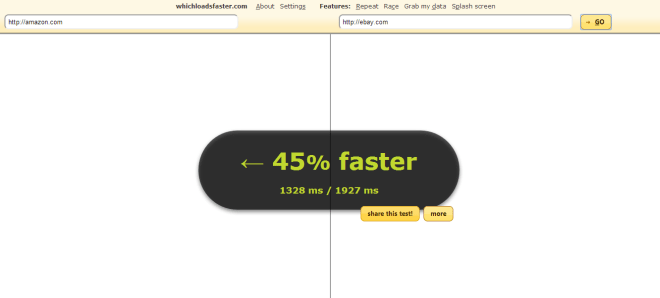 If you want to compare your site's speed with that of your competitor's this is a quick tool that lets you do that.
When you click on 'more' the option takes your gTmetrix, to give a detailed analysis of the chosen site.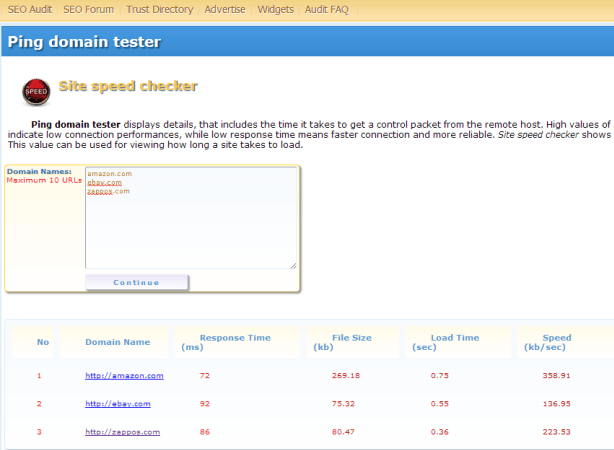 It is similar to the above tool that lets you compare your site speed with competitor sites. The only difference is you can run a comparison for site speed of ten sites simultaneously.
It gives you comparative information about response time, file size, load time and loading speed (kb/s).
Subscribe Now
10,000 successful online businessmen like to have our content directly delivered to their inbox. Subscribe to our newsletter!
Archive Calendar