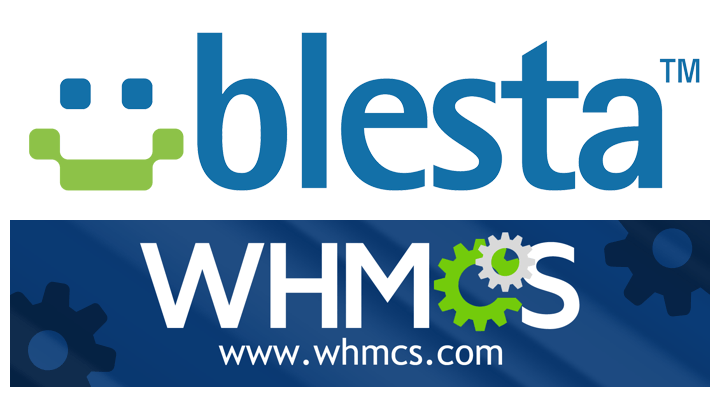 Reseller hosting is a great way to start earning some extra income, and if you're serious about it, you can even turn it into a full-fledged business. To do this, you'll need to pick the right platform to help you manage your clients, stay on top of billing, and handle other aspects that web hosting entails.
There are a few options when it comes to web hosting management platforms, and we happen to offer two of the top choices within our reseller plans – WHMCS and Blesta. Both provide all the features you need to run a web hosting business with relative ease. The question is which one is right for you?
In this article, we're going to talk more about what these kinds of services offer, and introduce you to both WHMCS and Blesta. Then, we'll help you pick one of the two platforms to get your hosting business up and running. Let's get started!
An Introduction to Web Hosting Management Platforms
If you've ever used a hosting service, then you're already familiar with web hosting management software. These types of applications enable providers to handle account management, billing tasks, and even support services. In short, web hosting management platforms are the backbone of any modern hosting service.
Whether you're a reseller or a top-level hosting provider, the advantages of picking the right management platform are easy to grasp. Let's talk about what they are:
Create and manage customer accounts. Using a web hosting management platform, you can create unique plans and sign users up to them.
Handle automatic billing. Manually creating invoices for each of your customers would take up too much time, but these platforms handle that work for you. Plus, they usually provide you with several methods to accept online payments.
Register domains. Each website needs its own domain and providing customers with an easy way to register (and manage) theirs is important to keep them happy. That's why most modern web hosting management platforms include this feature.
Of course, these aren't the only features that web hosting management platforms offer, but it's enough to give you an idea of what they can do. Now, let's talk about the two platforms that we offer and the features they provide.
WHMCS vs Blesta: 2 Top Web Hosting Management Platforms Compared
WHMCS and Blesta are two of the most popular web hosting management platforms available online. There are plenty of competitors, but these two stand out thanks to their wealth of features and ease of use. Let's take a closer look at both of them.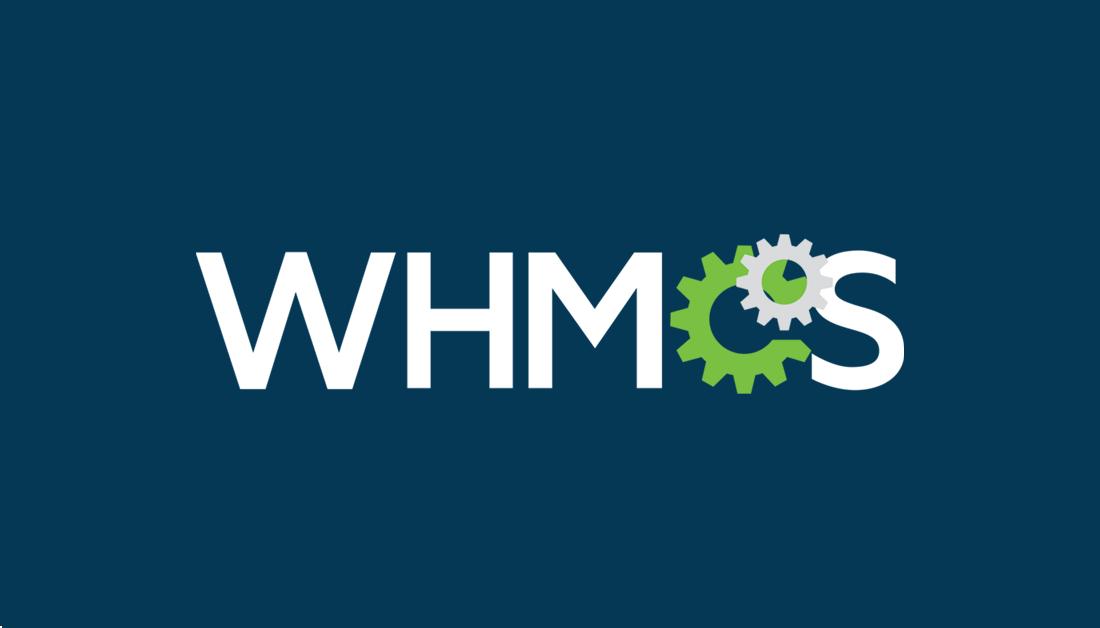 WHMCS has been one of the leading names when it comes to web hosting management software for some time. On top of the core billing, customer, and domain management features that you'd expect, WHMCS also enables you to handle other tasks, such as providing technical support for your users.
As far as pricing goes, WHMCS charges a monthly fee for using its platform, and even its most modest plans support hundreds of users. Plus, regardless of your plan, you get access to a lively marketplace with dozens of add-ons that can make WHMCS even more powerful.
Key Features:
Send invoices to your clients and bill them in multiple currencies
Automate the creation and suspension of hosting services for your customers
Set up multiple hosting tiers and products
Register, transfer, and renew domains for your clients
Provide a ticket-based support system
Keep track of your business' performance with in-depth analytics
Install add-ons to extend the platform's features
Create your own affiliate system
Set up themes to customize your dashboard
Pricing:
WHMCS' Starter plan kicks off at $15.95 per month and supports up to 250 customers. Our WHMCS reseller hosting packages start at $17.77 per month.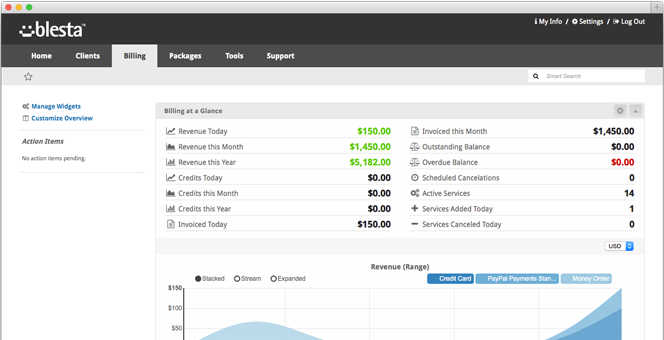 Blesta isn't a newcomer to the world of web hosting management, but the platform didn't really start picking up steam until version 3.0 was released in 2013. Since then, the platform has been making a name for itself as a top competitor in the field.
When it comes to features, Blesta includes all the basics such as account management, invoice delivery, and payment processing. However, it's this last area where the platform truly shines. Not only does it enable users to attach multiple payment methods to their accounts, but it also supports partial and overpayments.
Plus, if you're running your own hosting business, you can set different billing settings for specific groups of customers. All of these features add up to make Blesta an excellent option if you're looking for flexibility when it comes to billing.
Key Features:
Generate and send invoices automatically
Enable your customers to attach multiple billing methods to their accounts and support partial and overpayments
Approve and suspend accounts automatically
Include a support system to handle tickets
Customize your dashboard's color scheme and set up templates to alter its style
Use add-ons to extend the platform's functionality
Manage multiple hosting businesses using a single dashboard
Pricing:
Blesta offers both monthly and owned licensing options, starting at $12.95 for the former and $250 for the latter. Keep in mind, an owned license entitles you to use the software for a lifetime, but it only includes updates and support for a year.
However, you can optionally renew both of these features for $39 per year, which makes the owned licensing the most cost-effective option over the long term.
Our Blesta reseller hosting packages start at $17.77 per month.
How to Choose the Right Platform Between WHMCS and Blesta
As you probably noticed, both WHMCS and Blesta offer a lot of similar features. In fact, if all you're looking for is a reliable web hosting management platform that handles the basics, either of them should be a good fit. That means you should go with whichever one you feel most comfortable with.
Moving onto the specifics, Blesta offers more options when it comes to billing. There's also the matter of its interface which is a bit more modern than WHMCS out of the box. That being said, the look of both platforms can be customized, so it shouldn't be a deciding factor unless you don't plan on tweaking your installation.
It's also worth noting that Blesta offers its customers a 30-day trial and the option to test a demo of its platform, which is great if you're undecided.
Finally, it's important to point out that WHMCS offers an affiliate system, which provides you with a way to reward users for promoting your hosting services. This could potentially bring you a lot of business over the long term.
Blesta vs WHMCS Conclusion
Choosing the right web hosting management platform is key to helping you build a successful hosting business. Not only do you need to be comfortable with whichever platform you pick, but it also needs to provide you with all the features that you want to offer your customers.
If you're looking to dip your toes into the business, we offer reseller plans featuring the two top web hosting management platforms. Let's check out what makes each of them worth trying:
WHMCS: An all-around solid platform with a powerful add-on system.
Blesta: One of the most customizable options when it comes to customer billing.
Subscribe Now
10,000 successful online businessmen like to have our content directly delivered to their inbox. Subscribe to our newsletter!
Archive Calendar
Sat
Sun
Mon
Tue
Wed
Thu
Fri

1

2

3

4

5

6

7

8

9

10

11

12

13

14

15

16

17

18

19

20

21

22

23

24

25

26

27

28

29

30